Howard Pottery Co (Ltd) - Brentleigh Ware
Howard Pottery Group







Location and period of operation:
| | | | |
| --- | --- | --- | --- |
| Howard Pottery Co Ltd | Shelton | 1925 | c.1974 |
Earthenware manufacturers at the Norfolk Street Works, Hanley, Stoke-on-Trent, England.
The Howard Pottery Co was a manufacturer of general domestic and ornamental earthenware at Norfolk Street, Shelton. They probably shared works with Ford & Pointon who operated at the Norfolk Street Works until the mid 1930s.

Family oral history indicates that the business was owned by Earnest William (Bill) Bailey. His half-brother, Douglas K Bailey was the managing director until at least 1960 (Pottery Gazette entry).

The company initially made decorative ware, bowls, vases, dinnerware, and figurines often making use of the once fired process to reduce costs. During the Second Word War this changed to utilitarian – cups and saucers for the army and high insulation ware for electricity conductors.

Earnest William Bailey who lived at Tittensor Cottage emigrated to South Africa in 1951. Tradition has it that the trade name 'Brentleigh Ware' was named after Earnest's daughter Brenda and the Howard Pottery was named after his son Geoffrey Howard. (Source: Veana Scott, granddaughter of E. W. Bailey).

In 1947 Minerals Separation acquired 90% of the shares in the Howard Pottery Co. (Graces Guide, The Times newspaper 16 August 1947).

Companies associated with Howard Pottery were known as the Howard Pottery Group.

In 1949 the Howard Pottery Group brought Gibson & Sons, who moved from their Chelsea Works in Burslem to Norfolk Street in 1965.

By the early 1970s the Howard Pottery Group had acquired:

the Norfolk Pottery Co. Ltd

Beverley Tableware Ltd

Grimwades Ltd (owners of the 'Royal Winton' name)

In 1974 the Howard Pottery Group was acquired by Taunton Vale Industries (who were a manufacturer of homewares and table accessories) and in February of 1978 Taunton Vale Industries (Potteries) Ltd, the holding company for the acquisition, changed its name to 'Royal Winton Pottery'.

It appears that the Howard Pottery Co Ltd name disappeared in the mid 1970s.
---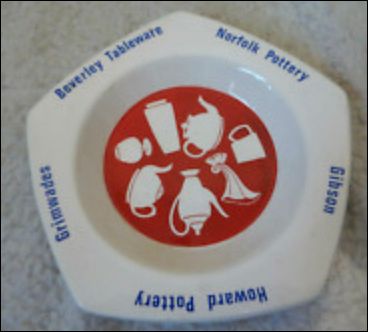 promotional ashtray showing the
Howard Pottery Group companies
Howard Pottery
Grimwades
Beverley Tableware
Norfolk Pottery
Grimwades
---

For your Modern Home
Brentleigh Ware
The Howard Pottery Co Ltd


The Pottery Gazette Reference Book 1947


Beauty and Quality
Brentleigh Ware
Specialists in Novelties and Florist's Sundries
The Howard Pottery Co Ltd


The Pottery Gazette Reference Book 1960
---
Examples of ware produced by Howard Pottery: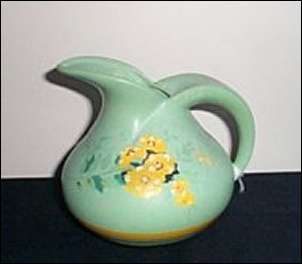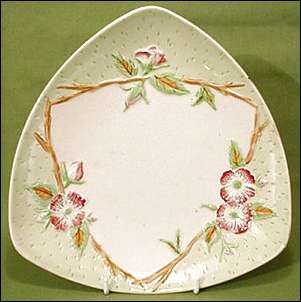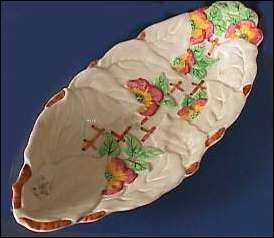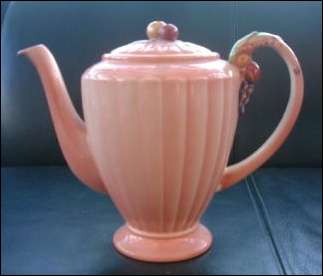 ware in the Anemone pattern
The Pottery Gazette November 1950
---
Marks used on ware for identification:
BRENTLEIGH WARE
family tradition has it that the trade name 'Brentleigh Ware'
was named after Earnest William Bailey's daughter Brenda
The Howard pottery was owned by the Bailey family
---

Made in England
Brentleigh Ware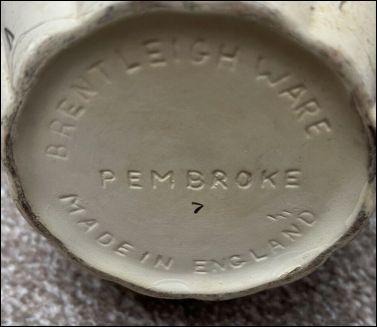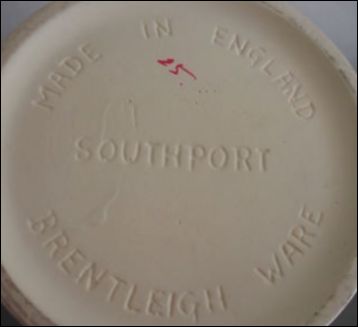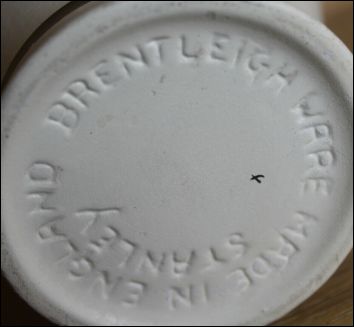 much of the output from the Howard Pottery was marked with cast in
identification which often included a pattern name - usually based on a place name
1925+
---

Brentleigh Ware
Made in England

printed mark


Brentleigh Ware
Made in England

mark on attached label
1925+
---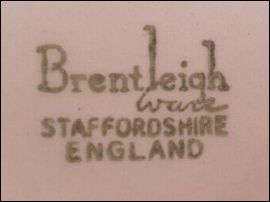 Brentleigh Ware
Staffordshire
England
printed mark 1950+
---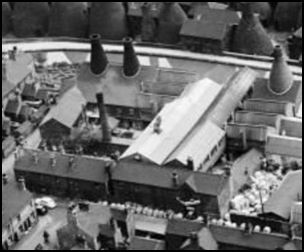 - click for more information on the Norfolk Street Works -
---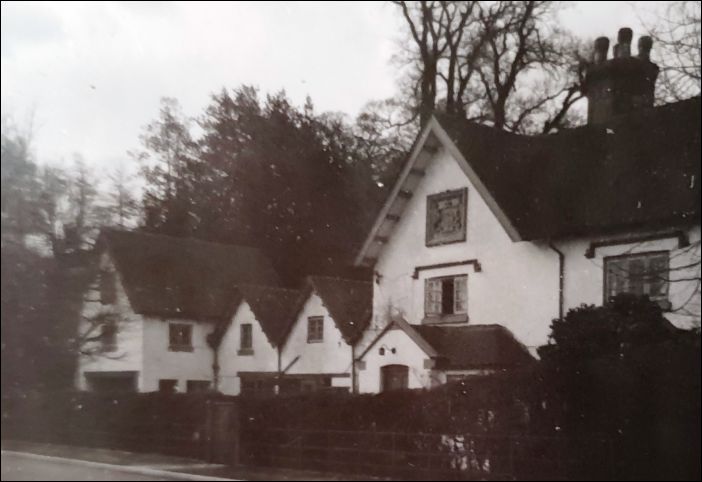 Tittensor Cottage, home of Earnest William (Bill) Bailey and his family
Bill was the owner and proprietor of Howard Pottery
c.1950
photo courtesy: Veana Scott (granddaughter of E. W. Bailey)
---
Questions, comments, contributions? email: Steve Birks
---