British Pottery Ltd

B P Ltd







Location and period of operation:
| | | | |
| --- | --- | --- | --- |
| British Pottery Ltd | Longton | 1933 | 1960s (?) |
Pottery manufacturers's agent in Longton, Stoke-on-Trent, England - (not to be confused with an earthenware manufacturer of the same name)
1933 - the British Pottery Ltd. was started by Mr. A. T. Godwin in London as a pottery manufacturers' agent.

Around 1941 the business, together with the associated Hales, Hancock & Godwin Ltd., moved to the New Park Pottery in Longton.

Around 1958 the businesses moved to the Melbourne Works.

British Pottery Ltd. was the agent for a number of English (Stoke-on-Trent) and various European manufacturers. They sold to wholesalers and retailers from bulk stock supplied by the manufacturers.
British Pottery Ltd. were agents for:
Some information courtesy: Michael Perry - A handbook of British Pottery Manufacturers 1900-2010
---
Marks & initials used on ware for identification:

Most ware supplied through British Pottery Ltd. only had the manufacturers name.
Some ware had the both the makers mark and B.P. Ltd and occasionally some were only marked B.P. Ltd.

trinket dish - City Life

B.P. Ltd

the initials B.P. Ltd are incorporated in a printed mark of a potter's bottle kiln
---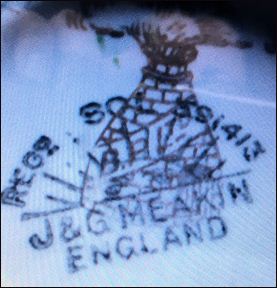 B.P. Ltd
J&G Meakin
England
Godden notes "these initials (B.P. Ltd) incorporated in a printed mark of a potter's kiln sometimes occur on wares made by firms for whom the company.. acts as agents.."

Geoffrey Godden Encyclopaedia of British Pottery and Porcelain Marks
photos courtesy: Jolene Edwards
---

British Pottery Limited, Melbourne Works - December 1962

The camera is looking west along King Street towards Fenton. The Melbourne Works in the foreground, stood at the eastern end of King Street in the Foley district. Beyond are the three works Old Foley Pottery, Foley China Works and Foley Pottery.

Melbourne Works was operated by Barlows (Longton) Ltd from 1920 and produced earthenware. At the time of the photograph, the works was operated by British Pottery Ltd, acting as agents for other pottery manufacturers. The buildings have been demolished.

The companies listed by the main door are Hales, Hancock & Goodwin Ltd, British Pottery and Healacraft Ltd.
photo courtesy: Stoke on Trent City Archives. Bert Bentley Collection
---
Questions, comments, contributions: email: Steve Birks
---