W H Goss
Goss (W.H. Goss Ltd)
Goss China Co Ltd







Location and period of operation:
W H Goss

Stoke

1858

1930

Goss (W H Goss Ltd)

Stoke

1930

c.1934

Goss

China Co Ltd

Stoke

1934

c.1941
William Henry Goss - Porcelain, Parian and Earthenware manufacturer at the Cock Works, John Street, Stoke (1858-70)and from 1870 at the Falcon Pottery, Stoke, Stoke-on-Trent, England
It is probable that Goss took over the works in John Street from J Mountford

For a brief period of about one year around 1868 William Adams Peake joined Goss in partnership as and they traded as Goss & Peake.

About 1883 William's eldest son, Adolphus Goss joined the business. He started large scale production of crested china for which Goss became famous.

William Henry Goss died in 1906 and the business passed to two other sons Victor and William Huntley Goss.

In 1913 Victor H. Goss died in a riding accident and his brother William H. Goss was left in charge of the business. He was not interest in progress and the firm gradually fell behind the times.

The business failed in 1930 and was purchased from the administrators by Cauldon Potteries. Harold Taylor Robinson subsequently purchased the business from Cauldon Potteries (which he effectively controlled) and he also acquired the Falcon Pottery Works. The business was renamed W. H. Goss Ltd.

W. H. Goss Ltd was operated with H. T. Robinson's other crested china businesses: Arkinstall Ltd and Willow Potteries Ltd.

W. H. Goss Ltd (together with other Robinson businesses) was placed in receivership in 1932.

In 1934 Goss China Co Ltd was registered by Colin M Brunt and Reginald Mellor (business associates of H. T. Robinson) to take over the business of W. H. Goss Ltd.

In 1941 Goss China Co Ltd is listed a a subsidiary of George Jones & Sons Ltd. Goss was concentrated with the parent company during the Wartime Concentration Scheme and did not reopen after the Second World War.
Some information courtesy: A Handbook of British Pottery Manufacturers 1900-2010, Michael Perry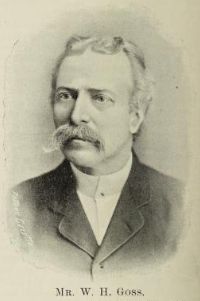 Obituary
William Henry Goss - aged 72
We record with regret the death, on January 4, of Mr. W . H. Goss, F.G.S., of Ashfield Cottage, Stoke-on-Trent, after about three months' illness, happily not of a very painful nature. The immediate cause of death was heart failure.
Mr. Goss was born in London in 1833, and remained in the metropolis until he was twenty-four years of age. He had acquired considerable ability as an artist, and made the acquaintance of a number of literary peoples. His interest in the Potteries may be dated from his acquaintance with the late Alderman Copeland while he was Lord Mayor of London. Mr. Goss appears to have been greatly influenced by Mr. Copeland in the manufacture of pottery, and devoted his attention to the artistic side of the industry.
He commenced manufacturing about 1858 and had the good fortune to be successful from the commencement. He very soon acquired fame for his rich ornamentations on ivory ground, for which he received an award at the International Exhibition in London in 1862.
The late Mr. Goss, however, made his name and his fortune by his beautiful heraldic ware. Whenever we read or speak of "Goss' china," it is understood we refer to the heraldic ware, the collection of which has become a craze, or a fashion. He was the first to systematically apply heraldic devices and mottoes to artistic and fancy forms in china. The collection of china bearing county, university, and municipal crests and mottoes soon became popular, and it is now extensively practised. There are many manufacturers producing "heraldic ware" with considerable success, so that visitors to all places of interest, whether coastwise or inland, are able to take away with them an artistic memento of their visit in the shape of a beautiful piece of china with the local arms emblazoned upon it in coloured enamels. "Heraldic china" (the production of many manufacturers), which can now be obtained in all parts of the Kingdom, owes its origin to "Goss' china," which the late Mr. W. H. Goss produced with such success in his beautiful ivory ware.
Mr. Goss was not only a practical chemist of great ability, but was an interesting writer on many subjects. His articles have appeared in the Art Journal, the Reliquary, and other journals. Amongst other publications in volume form may be mentioned his "Primitive Man and his Work" and "Review of Modern Science and Thought."
Mr. Goss was always a lover of the artistic and the antique, and has accumulated a remarkable collection of curios of all kinds at Ashfield Cottage. He was too much engrossed in literary pursuits and in his artistic productions to take any part in public affairs.
The likeness we give of the late Mr. Goss is from a photograph recently taken, and is considered by his most intimate friends a strikingly accurate one. He was youthful in appearance, and had a remarkably smooth skin, with a bright colour, so that the photo. may be accepted as a good likeness without flattery.
The business which he founded will be carried on as formerly by his sons, who have had the entire management of it for several years.
The Pottery Gazette, 1st February 1906
---



Captain Victor H. Goss
died 27th March 1913, age 47
following a horse riding accident

---


William H. Goss
Stoke-on-Trent, England
Original Heraldic Ivory Porcelain

The Pottery Gazette - 1st January 1913

---

His early work consisted of parian ware - mostly unglazed but some with hand enamelling.

Jewitt said of him: "In Parian - for which Mr. Goss ranked deservedly high - busts, statuary (notably an exquisite group of Lady Godiva), vases, tazzas, bread-platters and many other ornamental goods were made. Notable among these are admirable busts of Queen Victoria, the Earl of Beaeonslield. Mr. Gladstone. Lord Derby, etc. As portrait-busts, they rank far above the average and are, indeed, perfect reproductions of the original persons. It is not often that this can be said of portrait-busts, but il was a particular study of Mr. Goss and he succeeded admirably in it."

---

W. H. Goss made a substantial contribution to souvenir and commemorative ware. The company made articles of very thin moulded porcelain, which was particularly translucent.

They made ornaments rather than functional items, and in the earlier years of the business, from about 1860 to about 1890, they produced fine, beautifully coloured ware, including vases, jewellery, and dressing-table articles.

Goss exhibited at the Great International Exhibition of 1862 (held in South Kensington, London)
He won an important medal for his display of parian ware.

---

In the later years from 1883, and especially not long after Queen Victoria's Golden Jubilee of 1887, they branched out into much cheaper souvenir ware.

These articles were shaped like Cleopatra's Needle, Marble Arch, Nelson's Column, or more mundane things, such as wheelbarrows, cottages, and animals, and decorated with the heraldic crests (termed "crested china") of various towns or resorts.

---

---
Goss factories:
---
W. H. Goss biography:

William Henry Goss
1833 - 1906

---

Goss's productions at the Great International Exhibition of 1862
---
Goss Parian ware

Parian is a porcelain which, instead of being moulded into shape like dough is poured, while liquid, into moulds - parain ware is often left unglazed and so has a marble like apperance.

Parian ware's chief experimentalist and exponent was William H. Goss - his steady stream of fine ornamentals in this material competed with, and sometimes overshadowed, the products of such manufacturers as Copeland.


Three parian busts by W. H. Goss
Southey, Granville and William H Goss himself

picture: Lynda Pine, Goss and Souvenier Heraldic China

---


W H Goss Parian Ware Portrait Bust of Sir Walter Scott c.1880


mark on the above piece

---


W. H. Goss Parian Figure - Venus emerging from a Sea Shell

---
Goss and Peake terracotta:

W.H. Goss terracotta wall plaque of Benjamin Disraeli

---


A Goss and Peake terracotta vase
Around 1868 William Adams Peake joined Goss in partnership as and they traded as Goss & Peake.

Together they manufactured terracotta - the reddish brown earthenware has suddenly become fashionable - making wine bottles, jardinieres and vessels Greek and Roman style - the manufacture of this ware only covered the years 1867-9.
---
Goss crested ware:
The development of the heraldic china souvenir business:
William H Goss had invented an improved technique for the body and enamels for heraldic china and in 1873 registered a patent.
W.H. Goss had been producing small vases and pots with the Arms of Colleges and Schools on for presentations.
His son Adolphus joined the business in 1883 - Adolphus noted how the lower classes were now able to travel further (due to the expanding train network) and had more spare time and disposable income than ever before. A market had developed for souvenirs for people to take home from their day trips out.
Goss developed the small vases and pots into small cheap items and produced them with any town names and crests on. These were an instant success, and Adolphus travelled the country, and eventually around the world, signing-up agents to sell from, as well as drawing pictures of the local scenes to send back to the factory for new designs.

The collecting of these souvenir items caught on in a big way and by the turn of the century had become a collecting craze.

From the beginning with seaside resorts - virtually every town and city in the land now had its arms produced and sold by a Goss appointed agent and by 1900 there were 481 agencies in Britain.

It is said that, in 1910, some 90% of homes in Britain had some "Crested china" in their home.

Between 1883 and 1900 the Adolphus Goss criss-crossed the country, building up a network of more than 1,000 local agents, each responsible for promoting their local coats of arms, which could be placed on any one of upwards of 600 small, mass-produced named models.

The first of these were copied from museum pieces, but the later ones reproduced animals, lighthouses, fossils, fonts, statuary and crosses and many other things.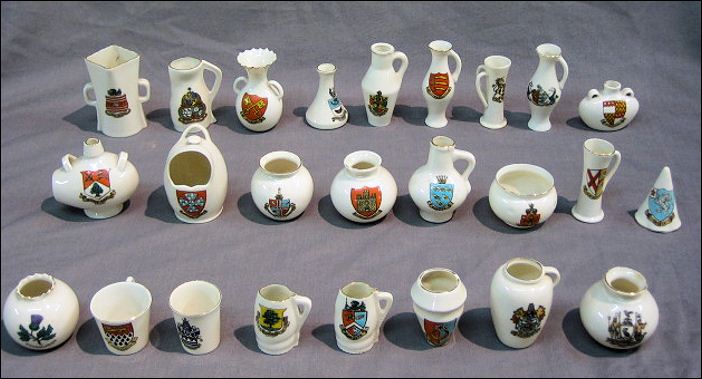 Goss china souvenir's came in a range of 'standard' shapes to which
various crests could be added - thus speeding up the delivery cycle

Goss china - model of an antique pipe with arms of Baddacombe,
a pilgrims leather bottle with arms of Rayleigh Essex, a Welsh lady's hat with arms of Brecon....
---
Goss cottages:
Although the heraldic crested wares made up the bulk of the company's sales, Goss also made
a popular series of hand painted buildings known as Goss Cottages -
Starting manufacture in 1893 over 40 different ones were made. These were made in two styles,
Some of the cottages were made with a large model which could be used as a night light.
Smaller models were made which were purely collectables, and these had considerable detail and accuracy.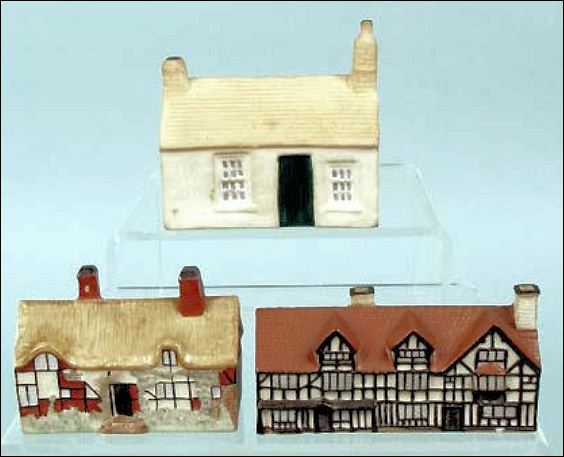 W H Goss cottages
The First & Last House in England
Anne Hathaway's Cottage, Shakespeare's House
---
Initials and marks used on ware for identification:
W H G
W H GOSS
W H GOSS
COPYRIGHT
---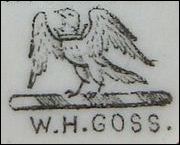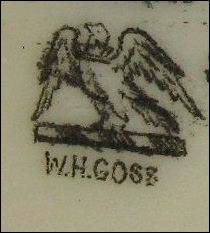 the Falcon was a
printed mark of W.H.Goss
the bird is a Falcon, as reflected in the factory name of the factory "Falcon Works".

The heraldric description of the crest is 'a falcon rising, ducally gorged'
---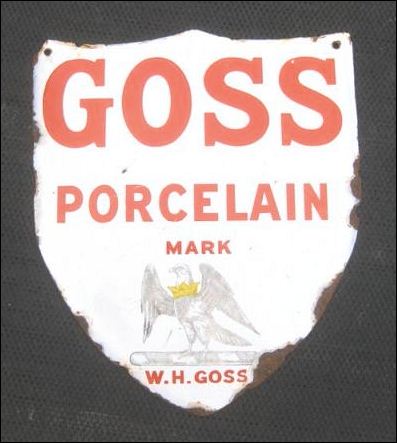 old enameled shop display sign advertising Goss Porcelain
---
Questions, comments, contributions? email: Steve Birks
---