E Hughes & Co

Hughes (Fenton) Ltd







Location and period of operation:
| | | | |
| --- | --- | --- | --- |
| E Hughes & Co | Fenton | 1889 | Dec 1939 |
| Hughes (Fenton) Ltd | Fenton | 1940 | 1953 |
China manufacturer at the Opal China Works, Fenton, Stoke-on-Trent, England
Edward Hughes moved from Shropshire to Stoke-on-Trent, according to the 1861 to 1881 census he was a charter master (contracting coal miners).

In 1889 (perhaps as early as 1886) he set up business with his son-in-law Enoch Massey (who married his daughter Sarah Ann) as E. Hughes & Co at the Opal China Works, Fenton.

Edward Hughes was joined in the business by his son Frederick Stuart Hughes.

The business was incorporated in December 1939 to name was changed to Hughes (Fenton) Ltd.

Frederick Stuart Hughes died aged 72 on 14th July 1941.

In 1941 the works was closed for the duration of the Second World War, after the war it was re-licenced in 1946 and was managed by another Edward.

In 1948 the business was acquired by Lawleys Limited and continued to produce tableware as part of the Lawley group of companies until about 1953.
---

E Hughes plate

typical E Hughes ware
both sets of cups and saucers carry
the trade name "PALADIN CHINA"
---

E H & Co
English Bone China
Fenton

Poppina is the pattern name
---

E H & Co
Free Hand
Fenton
photos courtesy: Gin Fry
---
Initials and marks used on ware for identification:
Trade names used by E Hughes:-
PALADIN CHINA
c.1914-41
EUSANCOS CHINA
c.1930-41
---
H
impressed mark
1889-98
---
HF
impressed or printed mark
1898-1905
[mark consists of 'HF' in a diamond shape]
---
HF
FENTON CHINA
printed mark
1905-12
[mark in a circle shape]
---
HUGHES FENTON
printed mark
c.1908-12
[mark with horse head and sunrise]
---
ROYAL CHINA
STAFFORDSHIRE
printed mark
c.1912-41
[mark in globe with crown above]
---
E HUGHES & Co
printed mark
c.1914-41
[mark in globe - sometimes "HUGHES (FENTON) LTD"]
---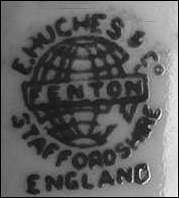 printed mark
c.1914-41

printed mark
"PALADIN CHINA" is a trade name
c.1914-41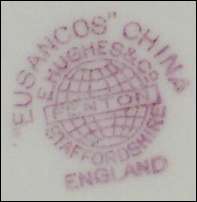 printed mark
"EUSANCOS CHINA" is a trade name
c.1930-41
---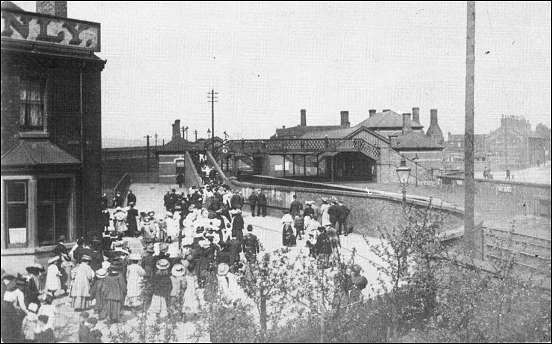 Postcard c.1908, the Opal China Works is clearly visible
in the background, behind Fenton Railway Station

see maps of The Opal China Works
---
Census details for Edward Hughes and his family
1861 census:
Dwelling: 223, King Street
Census Place: Tunstall, Stoke-upon-Trent, Staffordshire, England
| | | | | |
| --- | --- | --- | --- | --- |
| Name | Marr | Age | Sex | | Birthplace | Occupation |
| Edward Hughes | M 31 M | Head | Oswestry, Shropshire | Colliery Charter master |
| Ann Hughes | M 33 F | Wife | Tunstall, Staffordshire | Potter |
| Sarah Ann Hughes | 9 F | Daur | Tunstall, Staffordshire | Milliner |
| Edward J Hughes | 2 M | Son | Tunstall, Staffordshire | Scholar |
1871 census:
Dwelling: 166, Havelock Place
Census Place: Shelton, Stoke-upon-Trent, Staffordshire, England
| | | | | |
| --- | --- | --- | --- | --- |
| Name | Marr | Age | Sex | | Birthplace | Occupation |
| Edward Hughes | M 41 M | Head | Oswestry, Shropshire | Charter master |
| Ann Hughes | M 41 F | Wife | Tunstall, Staffordshire | |
| Sarah Ann Hughes | Un 19 F | Daur | Tunstall, Staffordshire | Milliner |
| Edward J Hughes | 12 M | Son | Tunstall, Staffordshire | Scholar |
| Betsy Hughes | 9 F | Daur | Tunstall, Staffordshire | Scholar |
| Frederick Hughes | S 1 M | Son | Longton, Staffordshire | |
1881 census:
Dwelling: 14, Grove Road
Census Place: Fenton, Stoke-upon-Trent, Staffordshire, England
| | | | | |
| --- | --- | --- | --- | --- |
| Name | Marr | Age | Sex | | Birthplace | Occupation |
| Edward Hughes | M 51 M | Head | Oswestry, Shropshire | Contracting Coal Miner |
| Ann Hughes | M 51 F | Wife | Wolstanton, Staffordshire | |
| Frederick S Hughes | S 11 M | Son | Stoke-on-Trent, Staffordshire | Scholar |
1891 census:
Dwelling: 26, Grove Road
Census Place: Fenton, Stoke-upon-Trent, Staffordshire, England
| | | | | |
| --- | --- | --- | --- | --- |
| Name | Marr | Age | Sex | | Birthplace | Occupation |
| Edward Hughes | M 61 M | Head | Landford, Shropshire | China manufacturer |
| Ann Hughes | M 61 F | Wife | Tunstall, Staffordshire | |
| Frederick S Hughes | S 21 M | Son | Longton, Staffordshire | Clerk (writing) |
1901 census:
Dwelling: 56 Church Street (Ashleworth Ter)
Census Place: Fenton, Stoke-upon-Trent, Staffordshire, England
| | | | | |
| --- | --- | --- | --- | --- |
| Name | Marr | Age | Sex | | Birthplace | Occupation |
| Edward Hughes | M 71 M | Head | Oswestry, Shropshire | China manufacturer |
| Ann Hughes | M 72 F | Wife | Tunstall, Staffordshire | |
1901 census:
Dwelling: 37 Blurton Road
Census Place: Fenton, Stoke-upon-Trent, Staffordshire, England
| | | | | |
| --- | --- | --- | --- | --- |
| Name | Marr | Age | Sex | | Birthplace | Occupation |
| Frederick S Hughes | M 31 M | Head | Longton, Staffordshire | China manufacturer |
| Minnie Hughes | M 29 F | Wife | Longton, Staffordshire | |
| Alan Stuart Hughes | 6 M | Son | Fenton, Staffordshire | |
| Edward Hughes | 1 M | Son | Fenton, Staffordshire | |
| Annie Barker | 14 F | Serv | Waterfall, Staffordshire | Domestic Servant |
---