Location and period of operation:
| | | | |
| --- | --- | --- | --- |
| Charles Meigh | Hanley | 1835 | 1849 |
Earthenware manufacturer at the Old Hall Works, Hanley, Stoke-on-Trent
Previously: Job Meigh & Son
Subsequently: C Meigh, Son & Pankhurst
---

Charles Meigh smear-glazed stonware 'Apostle jug'
c.1842


"This jug has been relief moulded; a mass-production technique which involved one process, using elaborate plaster moulds, with no extra work required for adding decoration. Such wares could thus be produced in large numbers and were affordable and durable. Jugs, such as this one, were amongst the most widely used utilitarian vessels of the Nineteenth century; decorative as well as practical. Many different firms produced them and hundreds of different designs existed, as the competition to supply the cheap mass market was intense. Often the same design was produced in different sizes.

This 'apostle' jug, in the Gothic style, is one of the most iconic and successful of relief-moulded jug designs and depicts figures in architectural niches. It has an applied registration mark on its base, which tells us that the design was logged at the Design Registry, established in 1839 to protect original work from being copied."

Victoria & Albert Museum
---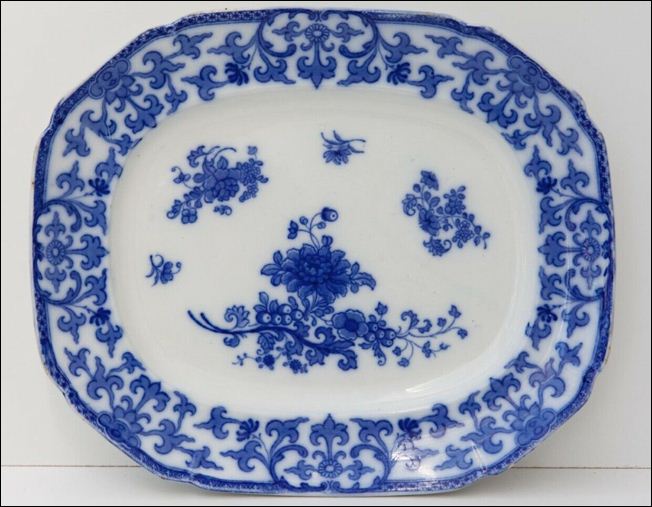 blue & white platter
---
| | |
| --- | --- |
| transferware charger plate | Improved Stone China |
photos courtesy: Patrick Carey
---
Initials & names used on ware for identification:
C M
CHARLES MEIGH
---
PORCELAIN OPAQUE
OPAQUE PORCELAIN
IMPROVED STONE CHINA
ENAMEL PORCELAIN
---

Improved
Stone China
impressed mark
---

Charles Meigh
applied moulded mark
many Charles Meigh marks incorporate the registration diamond
or the date of registration.
These marks occur on ornate moulded ware of the 1840's
---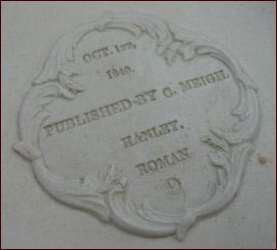 Oct 1st
1840.
Published by C Meigh.
Hanley.
Roman
applied moulded mark
---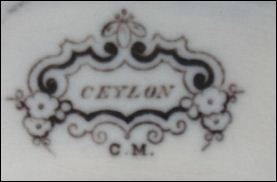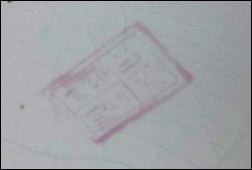 CEYLON
C.M.
these two marks appear on the same plate
'CEYLON' is the pattern name
---

Improved
Stone China
(impressed)

C M
'ANGLESEA' is the pattern name
---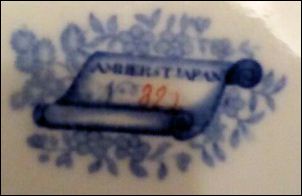 Amherst Japan
---
shown above are examples of marks used by
Chinese porcelain manufacturers
The Meigh family (& other potters) added similar
marks to their ware to give the impression of the orient
to their ware even though it was produced in England.
---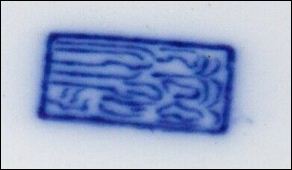 this style of mark was also used
by Job Meigh & Son and Charles Meigh & Son
---

Improved Stone China
around the border: Meigh Hanley

other wording included "Indian Stone China" or "French China"


Enamel Porcelain
marks recorded in Godden's 'Encyclopaedia of British Pottery and porcelain Marks'
these style of marks were also used by Job Meigh & Son and Charles Meigh & Son
---
- click for more information on the Old Hall Works -
---
Questions, comments, contributions? email: Steve Birks
---