| | |
| --- | --- |
| Old Hall Earthenware Co Ltd | |
Location and period of operation:
| | | | |
| --- | --- | --- | --- |
| Old Hall Earthenware Co Ltd | Hanley | March 1861 | July 1886 |
Manufacturer of earthenware, china, stoneware and parian manufacturers at the Old Hall Works, Hanley, Stoke-on-Trent, England.
The Old Hall Works was operated from 1790 by the Meigh family.

In March 1861 Charles Meigh jnr. transfered the business to a limited liability company called the Old Hall Earthenware Company Ltd. This was the first limited liability company in the Staffordshire Potteries.
Previously: Charles Meigh & Son

Subsequently: Old Hall Porcelain Works Ltd
---

modelled portrait of Prince Albert on a blue back ground titled PRINCE CONSORT


reverse bears the Royal Coat of Arms and is impressed
BORN AUGUST 26th 1819 Died DEC 14th 1861
parian ware commemorative jug to mark the death of Prince Albert, consort of Queen Victoria
some version were all white parian or stoneware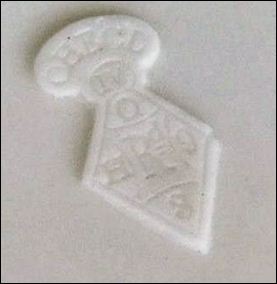 Moulded diamond registration mark which shows that
the design was registered on 9th April 1862
also impressed OHECL for Old Hall Earthenware Co. Ltd
---
| | |
| --- | --- |
| platter in the LOUIS SEIZE pattern | the registration diamond shows that this pattern was first registered on the 4th December 1873 to The Old Hall Earthenware Co. |
---

Vase with painted floral decoration, in imitation of cloisonne, and gilt figure handles
printed mark to base - OLD HALL 1790
c. 1884-86
The design is attributed to Christopher Dresser who supplied a series of dinner plate, jugs and vase designs to Old Hall.
This vase is one of a series of designs for vases which incorporate eccentric figures as handles on an otherwise fairly conventionally designed vase.
---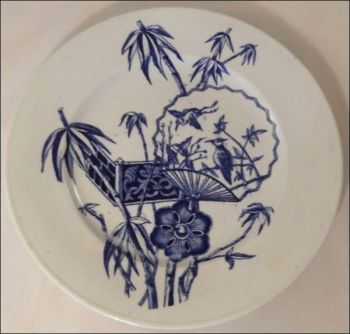 the MADRAS transferware pattern was produced in brown, blue and black
in the aesthetic style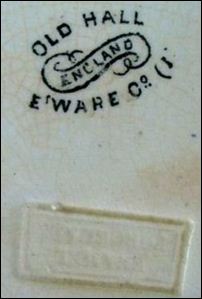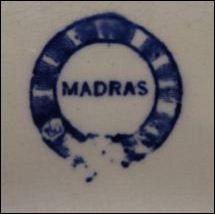 all these marks appear on MADRAS ware
sometimes without the pattern name and sometimes without OLD HALL
---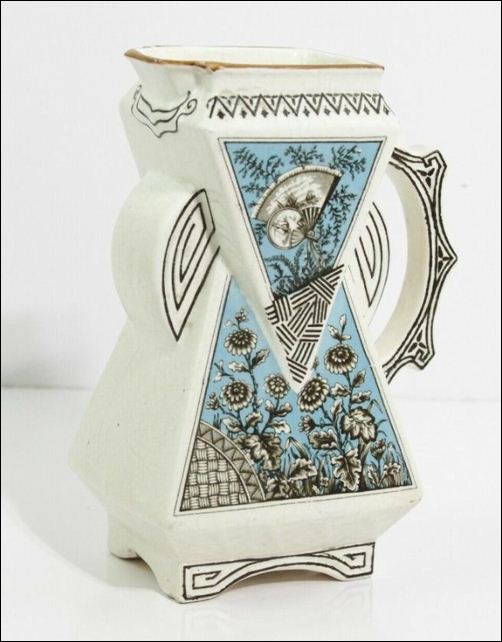 painted and gilded transferware jug
in the aesthetic style
---

Old Hall
E'Ware Co (L)

Eureka is the pattern name
the registration number 44552 shows that the pattern was registered on the 9th March 1886
ware in the aesthetic style Eureka pattern was produced in
monocrome and also in hand coloured styles
---
Marks used on ware for identification:
O H E C
O H E C (L)
O H E C L
OLD HALL
E'WARE Co (L)
---
IMPERIAL PARISIAN
GRANITE
a number of companies used this name on stoneware - there was nothing French
about the ware - it was used becasue 'Parisian' sounded more sophisticated
INDIAN STONE CHINA
OPAQUE PORCELAIN
---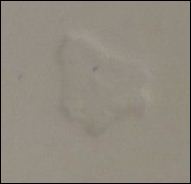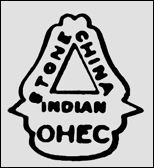 printed and impressed marks
1861-86
---

OLD HALL
E'WARE Co (L)
England

c. 1861-84
---

OLD HALL
1790

printed mark which was registered as a trade mark
in 1884 and used from this date onwards
- this mark was continued to be used
by the Old Hall Porcelain Works Ltd
---
- click for more information -
---
Questions, comments, contributions? email: Steve Birks
---