Sentinel Newspaper article, 16th March 1999


Ambassador for China

Business profile: Neil Sadler by Andy Stanistreet

One of the pottery industry's leading lights has taken on a new role
which will see him jetting across the globe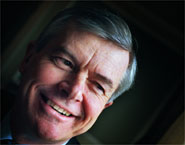 Quiet, reserved and traditional — the exclusive Potters' Club in Stoke was an ideal place to meet Neil Sadler.
The man has an aura of genteel confidence about him, a languid air which exudes charm and friendliness.
Yet his laid-back attitude hides a sharp brain, a forward-looking business attitude and a practical approach to company policy.
What better person to be the new roving ambassador for a century-old family-owned firm now changing its style for the millennium?
Neil was born into the ceramics industry. His father Eddie ran Burslem-based teapot manufacturers James Sadler and Son with his uncle, John Sadler. As soon as he was able to walk he was taken on tours of the factory on Saturday mornings, was introduced to high-powered sales representatives and directors from both the UK and abroad and was 'adopted' by workers only too keen to let him try his budding skills at painting pots and making clay models.
But his early introduction into the world of trade and commerce did not end when the factory closed its doors.
He occupied a privileged place at the family dinner table. Because of the difficulty of long distance travel in the late 1940s and early 1950s, buyers from North America and Australia frequently stayed in the UK for weeks on end. They were invited to the family home in Acton near Newcastle for evening meals and business discussions as a matter of course.
"'I cannot really recall ever taking much part in the discussions yet they were always part of my life. I remember I was always in trouble for fidgeting during the meals."

"Even so, meeting senior businessmen as a matter of course right from an early age to me was nothing special, yet it helped me from boyhood to build up a wider picture of the business world almost unconsciously.''
Aged eight Neil was sent to Mostyn House prep school on the Wirral. Aged 12 he was sent to Stowe public school in Buckinghamshire, where he continued his passion for games and took a particular interest in geography and languages.
In his spare time he watched motor races at nearby Silverstone, often begging paddock tickets to watch Stirling Moss and Mike Hawthorn speed round the circuit.
It was also at Stowe that he finally accepted he would one day become a prime mover in the future of James Sadler.
His father was frequently away from home for weeks on end, travelling to North America by liner to sell company products.
"I remember going to Southampton docks to see him return from a journey on the Queen Mary. I went on board the ship and the size of it left me awestruck.

"It was enormous and very grand. I went around my father's cabin and saw the luxury and thought then I would love to do the same as him. I wanted to travel.

"I did not see any downsides to being away from home for weeks, it all seemed like an adventure.''

He left Stowe aged 18 and immediately started a course at Stoke Technical College for a diploma in ceramic technology.
"By this time it was just assumed by my family and myself that like by elder brother Peter, who is now chairman, I would be going into the family business.''

For the next three years he learned the industry from the ground up — and, unsurprisingly, found himself doing his work experience at James Sadler.
"I particularly remember the sliphouse. I was covered in slip from head to toe from 8am until late at night and it was incredibly hard work heaving clay about. I had also been ordered by my mother never to return home wearing my filthy work clothes so I always had to wash and change before I even got home."

Outside work, Neil, the proud owner of a Mini bought for him by his father, spent his evenings at a jazz club in Cobridge and frequented the George Hotel in Burslem with friends, both from work and college. He also renewed a childhood friendship with Judi Day, who later became his wife.

After college he returned to James Sadler and became a management trainee, learning the ropes anew.
"In a way I was a gofer, but I came up with new ideas and new designs and gradually worked my way in.

"I also started to become more sales-orientated and went around with sales reps throughout Britain to shows. I felt like a million dollars when somebody placed an order for my own designs on display.''

In 1968 he made his first field sales trip to New York and Canada. It was everything he had hoped for and longed for.

"Everything was fascinating and on such a large scale in America. There was more choice, bigger cars, huge distances to be covered. When I got back to Stoke it seemed like a backwater.''
Every year since then Neil, who was soon afterwards made sales director, has travelled abroad.
He's been on sales trips to China, the United States, Canada, Hong Kong, Singapore, Japan, Taiwan and many more nations selling Sadler's goods.

"I get a buzz out of selling things and love travelling, even though it's always nice to come home. You do have to think on your feet to get the best out of them, but that is all part of the challenge.''

But earlier this year it was decided his role with the company would change. James Sadler, suffering from the effects of the strong pound, ageing products and a lack of public knowledge about its ranges, decided to launch itself big style into the millennium.
It scrapped hundreds of products, developed or revamped 160 new designs, altered its branding and launched a full-scale attack to get high profile consumer awareness of its collectability, tradition and quality on top of its already strong trade following.
And Neil Sadler — the fourth generation of the founder of the firm — is to become the ambassador of the company, spearheading the initiative throughout the world. Although he's already travelled hundreds of thousands of miles around the globe, very few of his sales trips have been to actually meet the buying public.
Now he will be responsible for organising a packed diary of engagements including store events and signings, TV and radio interviews, and jetting across to the far East and Australia to meet collectors and new customers. It is a challenge he relishes.
"It will be quite an exciting role. Like it or not, I am part of the company's history and can give depth and tradition to our products because of my heritage.

"I enjoy meeting people and find most collectors delightful and fully expect to be in demand as 'the man who makes the teapots' in the future.''

He lives with his wife and their two daughters near Newcastle.