W Sandland
Sandlands Ltd
Sandlands & Colley
W Sandland







Location and period of operation:
William Sandland

Hanley

1895

1904

Sandlands Ltd

Hanley

1904

1907

Sandland

s & Colley

Hanley

1907

1910

William Sandland Ltd

Hanley

1910

1913
Note: Dates are approximate.
Earthenware and china manufacturer at the Lichfield Street Works, (and for a period also the St. James Street Works), Hanley, Stoke-on-Trent, England.


William Sandland c.1907
- see biography -
From around 1887 William Sandland had been in partnership as Sandland, Bennett & Co. This partnership was dissolved in July 1893 and William commenced, on his own account at the Lichfield Pottery, Hanley.

Around January 1907 William retired from active management of the business which had been reconstructed as Sandlands & Colley Ltd. At the time he was the chairman of the Hanley Ratepayer's association.

April 1910 - William Sandland was elected as a member for the Hanley Council of the newly formed county borough of Stoke-on-Trent. (Pottery Gazette - April 1 1910).

In 1910 the partnership between William Sandford and Alfred Colley was dissolved and William took over the running of the business again. It may be that this Alfred Colley was the one who took over the Gordon Pottery around 1909.

By early 1913 the business was in financial difficulties and in February the debt of William Sandland of 3 Frogmore Road, Market Drayton and Lichfield Pottery, Hanley, earthenware manufacturer was purchased by John Williams, Watland Avenue, Wolstanton. (Pottery Gazette - February 1 1913).
Previously: Sandland, Bennett & Co
---

cup and saucer in the MILAN pattern

W. Sandland
HANLEY
photos courtesy: Matt Lonsdale


---


blue transferware tureen and lid

Sandlands & Colley
England

---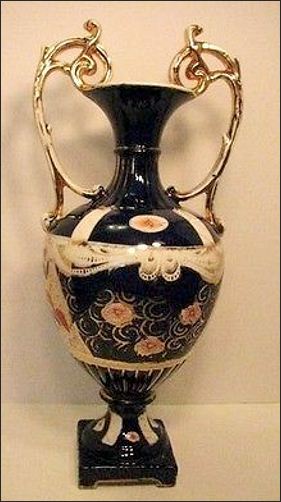 urn by Sandlands & Colley
c. 1907-1)
these type of uns were continued by
William Sandland c. 1910-13
---
Marks used on ware for identification:

W. Sandland
HANLEY
MILAN is the pattern name

Sandlands & Colley
England

Sandlands & Colley Ltd
SC
England

Bone China
Sandlands & Colley Ltd
SC
England
---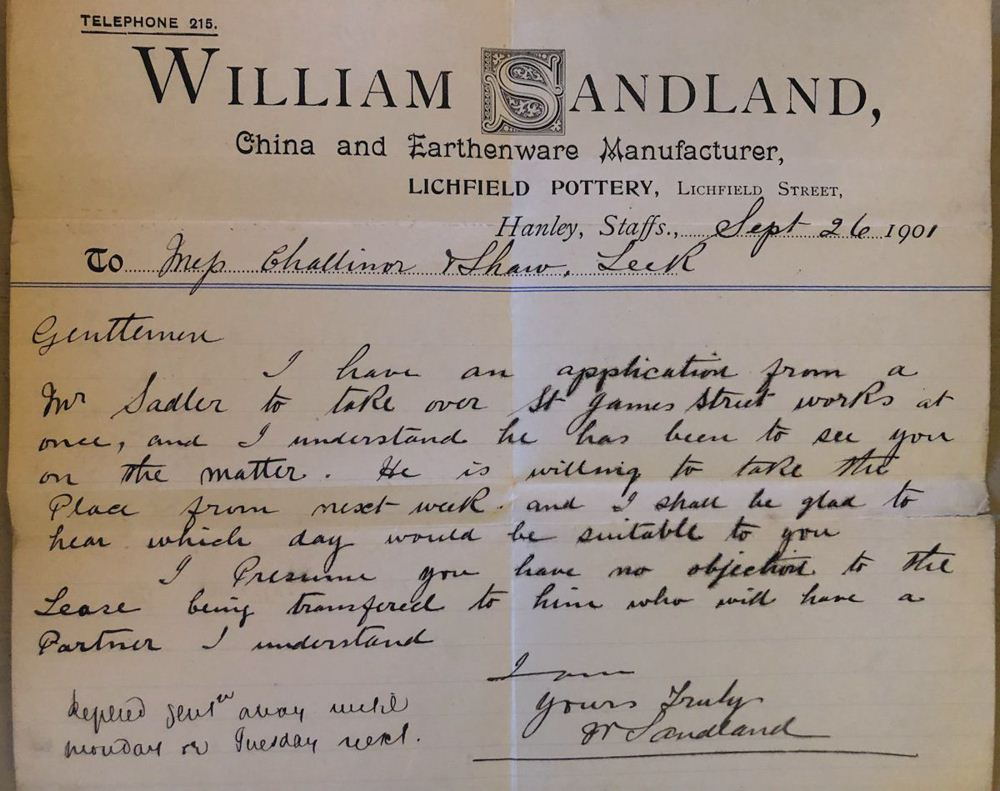 William Sandland, China and Earthenware Manufacturer
Lichfield Pottery, Lichfield Street, Hanley, Staffs., Sept 26 1901
Letter from William Sandand to Challinor & Shaw informing them that he is willing for
a Mr Sadler to take over the lease of the St. James Street Works
courtesy: Caroline Sandland
---
Retirement of Mr. William Sandland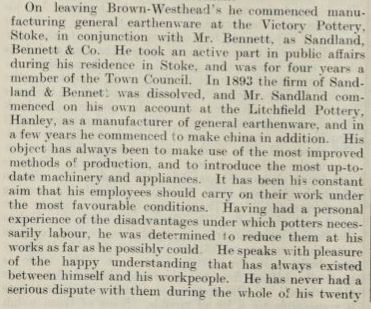 The Pottery Gazette - 1st February 1907
---

"Sandlands, Ltd., Lichfield Pottery, Hanley, are manufacturers of china and earthenware in great variety, and both useful and fancy novelties for the season were in show when I called. I saw Mr. Sandland, whose energy seems in no way abated. His early training as a practical potter is invaluable to him in the conduct of a business covering such a wide field. In addition to to the usual stock lines, they manufacture specialities in toilet ware, dinner ware, tea and breakfast sets, jugs vases and flower post."

"The "Astoria" is an excellent set, with a tall ewer of graceful shape and a round basin. it is shaded in green, pink, and salmon. Another good shape in the toilet services is the "Queen Anne"....
The dinner services include the "Quebec" shape... The company show a good collection of jugs in many shapes - the "Doris" in landscapes and blue and gold, is a pretty set.
The samples of tea ware in many shapes are specimens of good pottery. The "Dora" and "Queen" shapes are remarkably light..."

The Pottery Gazette - 2nd May 1910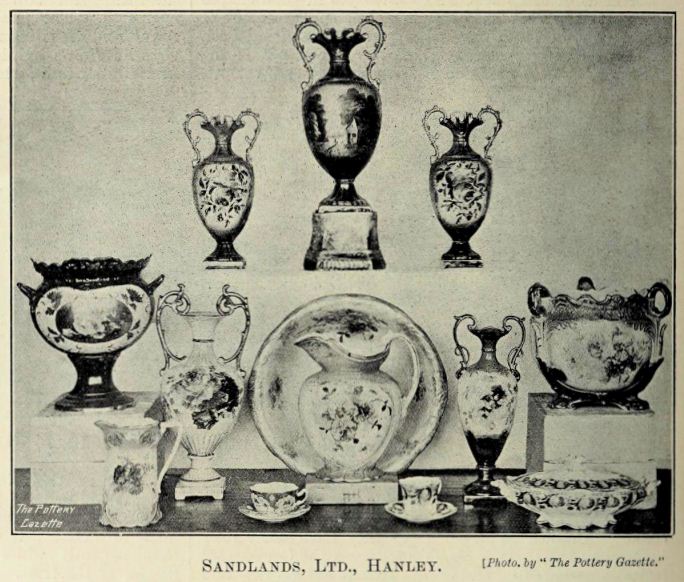 ---
Lichfield Street Works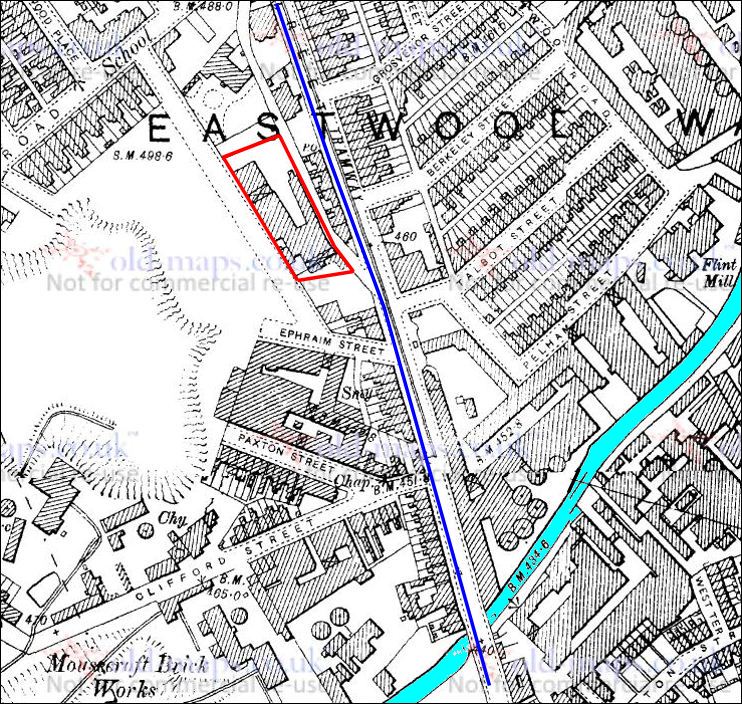 1900 map showing the location of the Lichfield Street Works
Lichfield Street is show in dark blue
and the Caldon Canal is at the bottom right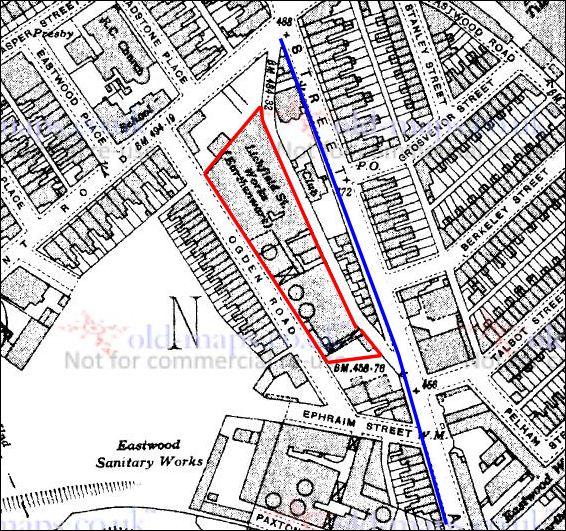 1938 map showing the Lichfield Street Works
at sometime before 1951 the works were renamed to the Park Works and
given over to the production of ceramic tiles
---
| | |
| --- | --- |
| rear of the Lichfield Street Works | frontage of the works on Ogden Road |
---
Questions, comments, contributions? email: Steve Birks
---