| | |
| --- | --- |
| Sandland, Bennett & Co | |
Location and period of operation:
| | | | |
| --- | --- | --- | --- |
| Sandland, Bennett & Co | Stoke | c.1887 | 1893 |
Earthenware manufacturers at the Victoria Works, Stoke, Stoke-on-Trent, England.
---
William Sandland biography: William Sandland was born at Hanley in 1848. He began working at nine years old as a mould runner at the Upper Hanley Pottery, working from six in the morning until eight at night. When he was thirteen he was apprenticed as a hollow-ware presser, but was transfered to finish his apprenticeship with Alcock & Co., Cobridge.

At the termination of his apprenticeship he was sent to work with Minton, Hollins & Co., encaustic tile manufacturers, with whom he remained for several years.

Afterwards he was engaged by Mr. Johns, Armitage Pottery, subsequently by Twyfords, Ltd., and later by Brown-Westhead & Co., Cauldon Place as a sanitary presser.

William was an active trade union official - in 1876 and 1879 representing the Hollow-pressers' Society in wages arbitration.

On leaving Brown-Westhead's he commenced earthenware manufacture with George Bennett at the Victory Pottery, Stoke. He took an active part during his residence in Stoke and was for four years a member of the Town Council.
---
July 1893 the partnership was dissolved - William Sandland and Emma Gray left the business and George Bennett continued as George Bennett and Company.

William Sandland commenced, on his own account at the Lichfield Pottery, Hanley.
Previously: The Victoria Pottery Company
Subsequently: George Bennett & Co
Subsequently: William Sandland
---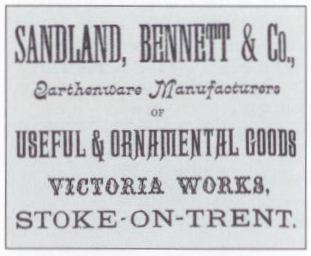 advert for Sandland, Bennett & Co
from 1892 Keates Directory
courtesy: Staffordshire Potters, 1781-1900 R.K.Henrywood
---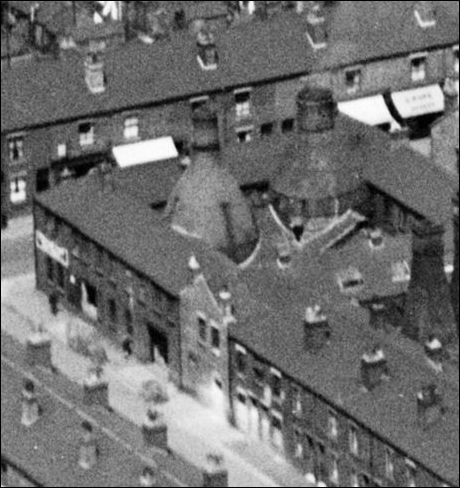 the two bottle kilns of the Victoria Works, Stoke
- click for more information -
---
Questions, comments, contributions? email: Steve Birks
---