Stratford Bone China Ltd

Trading as: Royale Stratford China







Location and period of operation:
| | | | |
| --- | --- | --- | --- |
| Stratford Bone China Ltd | Longton | 1976 | 2005 |
Manufacturer of bone china in Longton, Stoke-on-Trent, trading under the name: Royale Stratford China.
John Hinks founded Royale Stratford at St. Mary's Mill, Uttoxeter Road, Longton in 1976.

First incorporated as Heanor Ceramics Ltd on 30th September 1976 (Company No. 01279502).

Name changed to Stratford Bone China Ltd on 31st December 1978.

Directors were John Hinks, Darren John Hinks and Peter Cooper. Peter Cooper resigned in July 1992. There were financial difficulties and in 1996 recievers were appointed. At some time the business was associated with (perhaps taken over by) Bloor Potteries Ltd.

In 1999 John Hinks sold the business to Bloor Potteries Ltd. and stayed on as a consultant. The name Royale Stratford was continued.

In 2005 the business failed and John Hinks started Studio Hinks Fine Bone China at the Regent Works, Longton.
London Gazette
3rd December 1996


notice of appointment of recievers

- after this the business was sold to Bloor Potteries Ltd -




---
The 'Living Collection'
The Living Collection included tableware and decorative ware - the series included 'Take-Out'; 'Gypsy'; 'Alchemy Reflective Ware'; and 'Galley'.

The decriptions given are from Royale Stratford advertisements.

Alchemy Reflective Art
produced in Apple, Fire Red, Maroon, Gun Metal and Blue
"Innovative, decorative and functional, Alchemy Reflective Art is created through a fusion of reactive glazes, fine earthenware and simple, uncomplicated shapes.

Lustrous metallic finishes react with contemporary colours making each piece unique in detail ensuring that no two pieces are ever the same."
---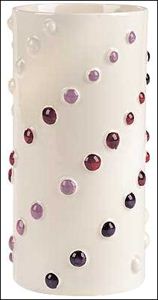 Galley
produced as vases, platter and Latte mug
"Unique, functional and entertaining, Gallery is inspired by the movements of the 20th Century, combining bold decoration and texture in highly individual works of art."
---

Royal Stratford
Fine Bone China
Handcrafted in Staffordshire
England

Stratford Fine Bone China
Handcrafted in Staffordshire
Made in England

Stratford
Fine Bone China
Handcrafted in Staffordshire
England
---
The 'Fine Giftware Collection'
The giftware range included china boxes, character & classical figurines, foxes, dogs, stirrup cups, floral china and Staffordshire dogs & figures.

They also offered 'Unique works of art created from an original photograph of your pet dog or cat. Beautifully hand painted on the lid of our 1.5" diameter fine bone china box, complete with your special inscription inside, suplied in our presentation case.'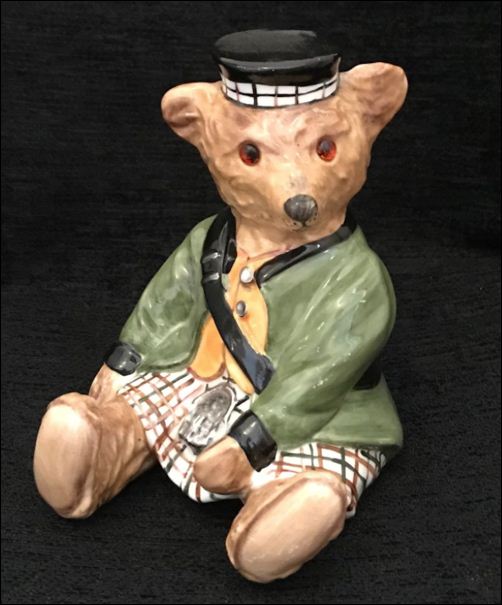 limited edition Scottish teady bear
---

figure - keys / trinket holder
---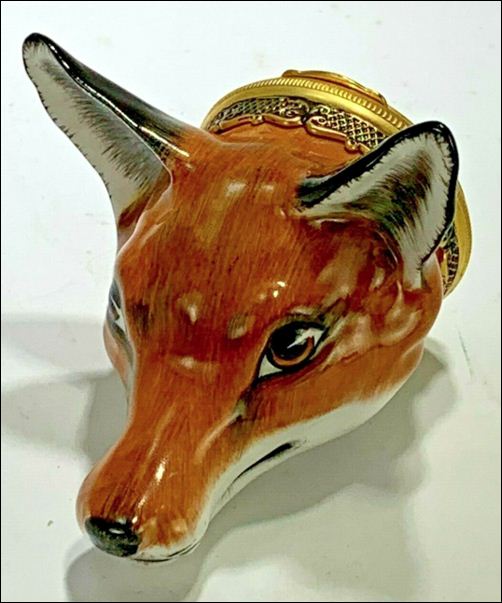 Lidded fox head stirrup cup
---

'Bear Bellies' mug
---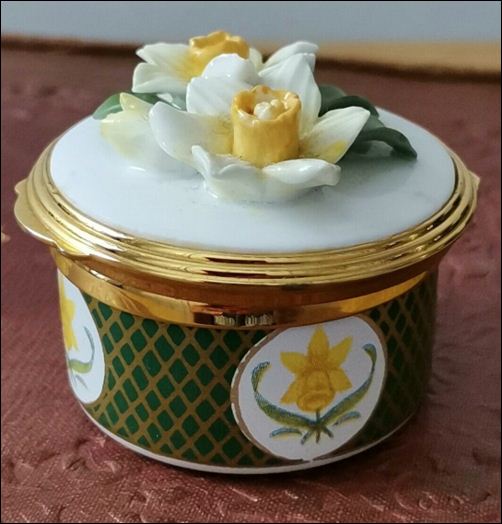 Trinket box
---
Marks used on ware for identification: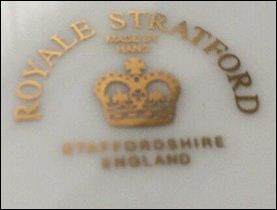 Royale Stratford
Made by
Hand
Staffordshire
England
---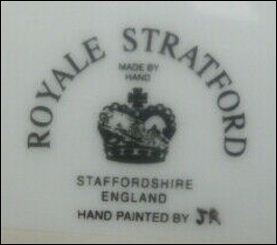 Royale Stratford
Made by
Hand
Staffordshire
England
Stratford Bone China Ltd traded under the name 'Royale Stratford'. The name was officially registered as a trade mark on September 1997 on the basis of distinctiveness acquired through use. (registration number 2103298).

In November 2002 an unrelated pottery company - Royal Stafford Tableware Ltd - applied for the invalidation and revocation of the trade mark registration. The application for revocation failed but the Registrar ruled that 'dinnerware' should be removed from the specification of the mark for Royale Stratford. - see script of ruling -
---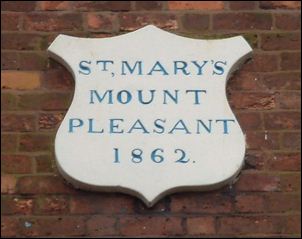 St. Mary's
Mount
Pleasant
1862

Royale Stratford factory shop, cafe and works
Royale Stratford at St. Mary's Mill, Uttoxeter Road, Longton
---
Questions, comments, contributions? email: Steve Birks
---