| | |
| --- | --- |
| Hicks & Meigh | |
Location and period of operation:
| | | | |
| --- | --- | --- | --- |
| Hicks & Meigh | Shelton | 1807 | 1822 |
Earthenware and ironstone manufacturers at the Broad Street Works, Shelton, Hanley, Stoke-on-Trent, England.

Broad Street, Hanley was originally known as High Street in the Township of Shelton which bordered Hanley. The factory is, therefore, sometimes referred to as the High Street Works. The change was around 1857 when the townships of Hanley and Shelton were incorporated to constitute the municipal borough of Hanley.

The partners were Job Meigh II, his brother-in-law Richard Hicks.

In 1807 Hicks bought a factory in the High Street, Shelton, were he set up as a pottery manufacturer (i in partnership with his brother-in-Law, Job Meigh II.

Job Meigh II was the son of Job Meigh I (1750-1817), who manufactured pottery on the site of Hanley Old Hall. Job Meigh II, born in 1784, married Elizabeth, daughter of William Mellor of Johnsonís Charles Street Pottery in Hanley, in 1805. Job Meigh II initially worked for his father in the Old Hall Pottery but by 1807 he had left to go into partnership with Richard Hicks, his brother-in-Law.

Richard Hicks married Lydia Meigh, daughter of Job Meigh I in 1801.

In 1815 Hicks & Meigh rebuilt the works in a typical rectangular courtyard plan with the kilns in a line along the rear.

c. 1820 Thomas Johnson (their travelling representative) became a partner and the business was henceforth known as Hicks, Meigh and Johnson.
Previously: John & Edward Baddeley
Subsequently: Hicks, Meigh & Johnson
---


from the 1818 Bradshaw
Staffordshire General & Commercial Directory

---

- click for a good source on Hicks & Meigh patterns -

---


soup bowl in the Imari style
the pattern is No 13

---


sauce boat stand
the pattern is 'exotic birds' No7

---

platter, decorated with peonies and a willow tree
the mark is the Royal Arms, Stone China and No7
---
Marks and initials used on ware for identification:
HICKS & MEIGH
H M
---
STONE CHINA
IRONESTONE WARRANTED
---

Stone China
earlier mark used by Hicks & Meigh
---

Ironstone Warranted
earlier mark used by Hicks & Meigh
---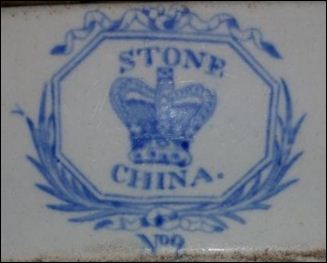 Stone China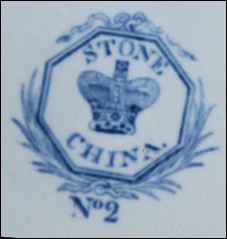 Stone China
this style of mark was continued by the sucessor
Hicks, Meigh & Johnson until c.1830

---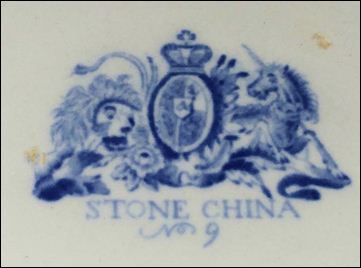 Hicks & Meigh use of the Royal Arms
These arms are pre-1837 as they have the centre shield of the house of Hanover. This was removed when Queen Victoria ascended to the throne.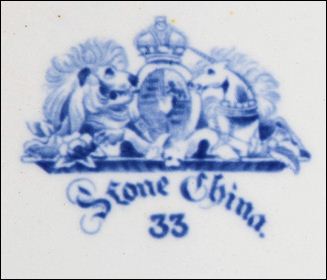 Royal Arms used by Hicks, Meigh & Johnson
The Royal Arms were also used by the later Hicks, Meigh & Johnson - they can be distinguished as the Hicks & Meigh mark was more detailed than that used by Hicks, Meigh & Johnson.
---
- click for more information on the Broad Street Works -

---
Questions, comments, contributions? email: Steve Birks
---