White ironstone china
In the 1840's, the English North Staffordshire potters began exporting the undecorated wares to the American and Canadian markets. The English potters discovered that the "Colonies" preferred the unfussy plain and durable china.
Development of patterns
Because much English ironstone was exported to the US, American names were often used for patterns, including Columbia, New York, Virginia, Union, Potomac and Atlantic.


example of an American place name used as the pattern name
the impressed mark reads:
John Meir & Son
Washington Shape
- John Meir & Son -
---
Because items made of ironstone were thick and heavy, the shape of the dishes became important. In the 1840s, James Edwards, John Ridgway and the Mayer Brothers introduced all white, beautifully glazed dinner ware with angular shapes that deviated from the gentle curves that had been traditionally used. In 1844, John Ridgway & Co. patented a design called "Classic Gothic," a hexagonal shape with crown finials and scrolled arches. Other potteries offered variations on the "gothic" design during the 1840s.
Classical and ribbed patterns remained popular between 1850 and 1880. In 1851, Thomas and Richard Boote introduced an octagon shape, combining sharply angled outlines with softly curved or oval handles. T.R. Boote also produced the "Sydenham" shape in 1853, similar to the "Octagon" design, but more ornate and detailed. Another pattern, "Square Ridged," featuring scallops and ridges, was produced by several manufacturers in the 1880s. "Hexagon Sunburst" combined hexagonal shapes with rounded designs on handles. "Iona," by Powell, Bishop and Stonier, featured scalloped ridges along the bottom of traditionally shaped dishes.
Plant & leaves patterns
As Americans moved west, many patterns were based on the plants that could be found on the prairies. Fruits, grains, nuts and pods were embossed ironstone dishes. Wheat, corn and oats were used to represent the plentiful crops in the midwestern US.
A pattern called "Corn and Oats" used ears of corn for finials on lids. Arcs of wheat decorated "Arched Wheat" by the American potter R. Cochran & Co., and a similar design called "Wheat and Hops" was produced by several English manufacturers.
Leaves were also popular during the 1850s, including oak, maple, grape and ivy. Raised vines trailed around borders and cups. Grape leaves and vines sheltered tiny, embossed bunches of grapes. Other fruits were used as well, including peaches, figs, plums, pears and berries. Flowers also decorated a lot of the mid-century ironstone.
Lilies of the Valley, tulips, forget-me-nots and hyacinths were used individually and also combined with other flowers in patterns such as "Meadow Bouquet" by W. Baker and Co. and "Summer Garden" by George Jones.
---
An example of a mark from a white ironstone dinner plate - this mark was designed for the American market - the use of the British Royal Arms had been substituted with the American eagle and the shield with stars & stripes.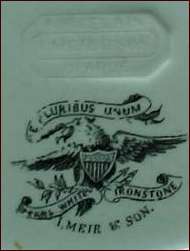 J Meir & Son
Porcelain Opaque
(impressed)
Pearl White Ironstone
J Meir & Son
(printed)