George Wade Potteries
George Wade and Son Ltd
Wade Potteries







Location and period of operation:
George Wade Potteries

George Wade and Son Ltd

Wade Potteries

Wade Ceramics

Burslem

c.1867

1922

1935

1989

1922

1975+

1989
Porcelain and earthenware manufacturer at the Manchester Pottery, Greenhead Street, Burslem, Stoke-on-Trent

George Wade (b.1864 d.1938) was born in Tunstall, Stoke-on-Trent in 1864 one of three sons of son of George and Harriet Wade.

He became chairman of George Wade Potteries, making industrial ceramics for the gas, electric and cotton industry. GW also had a business interest in Chromo Transfer Co., of Burslem.

c.1905 George Wade bought the business of Henry Hallen (Wellington Street, Burslem - who also produced ceramics for the cotton industry) and united the two concerns in a new factory called the Manchester Pottery.

He married Marie Hart and in 1891 they had one son, (later Colonel) George Albert Wade.

At the age of 15 George Albert Wade joined his father in the business. At the outbreak of the First World War he joined up. In 1919 - after release from the army GAW returned to the business and was made a partner.

1922 the business was renamed George Wade & Son Ltd.

In 1931 Major George Wade became a director of both Wade Heath and A.J. Wade Ltd. and when A.J. Wade died.

In November 1935 the new company was floated on the stock market. Known as Wade Potteries Ltd, it was made up of Wade Heath and A.J. Wade Ltd. George Wade was Chairman with George Heath the new Managing Director. However on 4th June 1937, just over two years after the flotation, George Heath died suddenly aged 64 and thus George Wade assumed control of Wade Potteries.

Only in 1953, after Sir George Wade developed Whimsies, a small solid ceramic collectable animal series, did Wade become a household name in the UK and America and the company has been known ever since as the "Home of the Whimsie"

In 1958 Wade Potteries Ltd took over George Wade & Son Ltd and Wade (Ulster) Ltd and, for the first time brought all the Wade group of companies together under Colonel, Sir George Wade.

George Wade was knighted in 1955, "for political and public services,''

Jessie van Hallen

Jessie Elaine Hallen, known as Jessie Van Hallen, was a British ceramicist who worked for George Wade from 1930-1940.

George Albert Wade made a conscious decision that he wanted to move towards the lucrative giftware market, no doubt having seen the success of both Wade Heath & Co Ltd at their Royal Victoria Works as well as A.J. Wade Ltd at the Flaxman Pottery.

With this in mind George hired Jessie Hallen to work for him at the Manchester Pottery initially modelling garden gnomes for Carter's seeds progressing to flowers, animals and ladies.

In 1930 Jessie was allowed to set up her own small department at Wade's Manchester Pottery, reporting directly to George Wade himself. Here she produced her delicate floral arrangements, and now famous lady figurines. With her great gift for modelling and his flair for marketing, they were a formidable pair. Eventually Jessie had studios in all three factories.
---

---


Wade Whimsies

---
Marks used on ware for identification:
TRADE NAMES:-
WHIMSIES
MINIKINS
HATBOX SERIES
---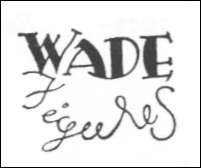 c.1936+
---

c.1936+
[this mark appears in a 1947 trade directory]
---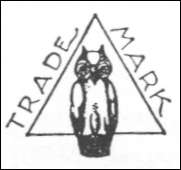 c.1947+
[this mark appears in a 1960 trade directory]
This owl mark type was used at the Manchester pottery for items made for the "free market", in other words, items not made to a customer's own design but intended for the general market.
Examples of Wade industrial ware using this mark are ceramic cleats, ceiling roses, insulators and electrical fire element holders.
---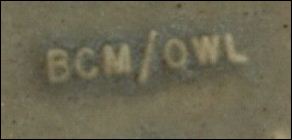 BCM/OWL
The letters 'BCM' (for British Commercial Monomarks) were to be used on goods along with an identifying name to uniquely identify the manufacturer and provide a method of corrispondance. Only a small number of pottery companies used the BCM system.
George Wade & Son Ltd used 'OWL' as their identifying name.
---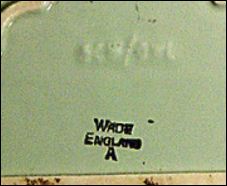 BCM/OWL
Wade
England
A
the letter 'A' denotes that this was made under the
Wartime Concentration Scheme
c.1942-52
---
Questions, comments, contributions? email: Steve Birks
---