| | |
| --- | --- |
| Edward Walley | |
Location and period of operation:
| | | | |
| --- | --- | --- | --- |
| Edward Walley | Cobridge | 1845 | 1865* |
* Godden "Encyclopedia of British Pottery and Porcelain Marks" gives the end date as 1856
Jewitt's "Ceramic Art of Great Britain 1800-1900" gives the end date as 1865

Edward Walley operated the Villa Pottery at Cobridge, Stoke-on-Trent, manufacturing Earthenware, Parian, Salt Glaze wares.
Also traded as E. Walley & Son and with the mark "E & W Walley".

Formerly: Jones & Walley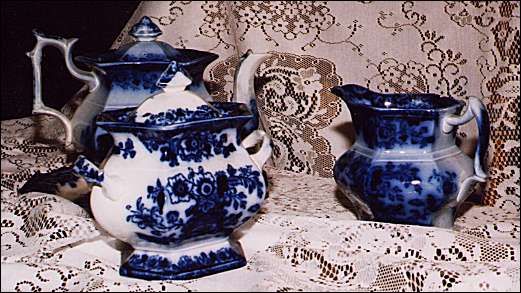 Flow blue ware by E Walley
---
Initials used on ware for identification:
IRONSTONE
CHINA
E WALLEY
(impressed mark)
---
E WALLEY
(impressed mark, often with the registration mark)
---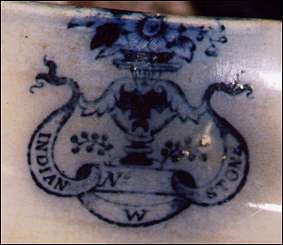 W
(printed initial used with different marks,
often the name of the pattern is included)
---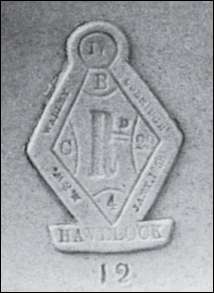 E & W WALLEY
around the diamond registration mark it reads:-
E & W
WALLEY
COBRIDGE
JANY. 1858
HAVELOCK - will be the pattern or shape name
---
for more examples, click below:-
---
WALLEY, Edward (1810-1872), pottery manufacturer, Burslem.

Edward Walley was born at Hanley and baptised on 6 May 1810, the son of Edward Walley and his wife Elizabeth.

He operated the Villa Pottery at Cobridge from about 1840 until 1865 initially with Elijah Jones (as Jones & Walley); from 1845 on his own and then from about 1856 with William Walley.
By 1860 he also worked the Scotia Pottery at Burslem.

He produced relief moulded jugs for the home market and exported ironstone ware, particularly to Canada, where he supplied churches with ware decorated with individualised markings. He employed 360 hands in 1861. After withdrawing from manufacture he was in business as a commission agent and potter's valuer.

Edward Walley was a member of the Burslem Board of Health from 1850 to1863 and served as chief bailiff in 1860-1. In 1849 he complained of the inadequacy of the street lighting in Cobridge.
He married Margaret Turner and a son Edward was born at Hanley in 1837. By 1861 the family were living at Grove House, Cobridge and later in Clifton Terrace, Waterloo Road, Burslem where he died on 13 December 1872.

SOURCE: Information from Mr J W Bentley, Lytham St. Annes; Census 1861; Dir. 1851, 1860; IGI Staffs; Jewitt; Oldham, People of the Potteries.

---
1861 census:
Dwelling: Grove House, Ville of Ruston Grange,
Ecclesiastical District of Christ Church
Census Place: Burslem, Stoke-upon-Trent, Staffordshire, England
| | | | | |
| --- | --- | --- | --- | --- |
| Name | Marr | Age | Sex | | Birthplace | Occupation |
| Edward Walley | M | 50 | M | Head | Hanley, Staffordshire | Earthenware manufacturer, employing about 360 hands. |
| Margaret Walley | M | 42 | F | Wife | Hanley, Staffordshire | |
| Edward Walley | M | 24 | M | Son | Hanley, Staffordshire | Potter's Manager |
| Esther Walley | M | 23 | F | Son's wife | Burslem, Staffordshire | |
| Madeline Walley | | 2 | F | Daur | Burslem, Staffordsire | |
---
Questions / comments / contributions?
email: Steve Birks