Location and period of operation:
| | | | |
| --- | --- | --- | --- |
| Booths Ltd | Tunstall | 1891 | 1948 |
Manufacturer of earthenware at the Church Bank works, Tunstall, Stoke-on-Trent.
From c.1912 also at the Swan and Soho Potteries, Tunstall.

The Booth's family business in pottery manufacture was started by Thomas Booth in Burslem in the 1850's and from 1868 at the Church Bank Works in Tunstall.

Thomas's son - Thomas Gimbert Booth was in business with his father and in 1876 continued on his own account.

By 1881 the factory employed 50 Men, 60 Boys, 15 Women, and 30 Girls

From 1883 - 1887 he was joined by his brother Frederick as T G & F Booth.

In January 1887 Frederick left the business and Thomas Gimbert continued on his own accoint.

The business was registered as a limited company about 1898, and Thomas acted as managing director until 1904 then as chairman.

In 1905 Charles H Bowers was appointed general manager and under his guidance Booths became a leading manufacturer.

Thomas Gimbert Booth died September 1907 and was buried in the churchyard of St. Margaret, Wolstanton

By 1914 the company employed 800 people

In the 1920s the Person Group aquired an interest in Booths and then later full ownership - the name Booths was retained.

In 1944 Booths aqcuired Colclough China Ltd - merging with them in 1948 to become Booths & Colclough Ltd
Formerly: T G & F Booth

Subsequently: Booths & Colclough Ltd
---

Booths Limited, Tunstall, Staffs
Manufacturers of Silicon China and Royal Semi-Porcelain
also Tiles for Walls, Hearths, Furniture
from..... 1907 Staffordshire Sentinel
'Business Reference Guide to The Potteries, Newcastle & District'
---

obituary of Charles Edward Green
Chairman of Booths Ltd.

Staffordshire Advertiser
28th September 1940


The Late Mr. C. E. Green

The funeral took place in London on Monday of Mr. Charles Edward Green, who was well known in the North Staffordshire pottery industry as chainrman of directors of Booths Ltd. Tunstall.

Mr Green, who was 74 years of age, was a son of the late Mr. Thomas Allen Green, a member of the noted Fenton pottery family of Green, and a cousin of Mr. Samuel Green, of the Crown Staffordshire Porcelain Co., Ltd., whose death occured last week.

Deceased became associated with [Messers.] T. G. and F. Booth, tile manufacturers, of Tunstall, in 1886, and [under his] direction it developed into a large earthenware business, the present company being formed in 1900, with Mr. Green as financial director. He had been chairman since the death of Mr. T. G. Booth.

His wife, who survives him, was a Mis Louise Cass, daughter of Sir John Cass, of Yorkshire. Their daughter, the Marquisa Malacrida, was killed in a motoring accident in 1934.
---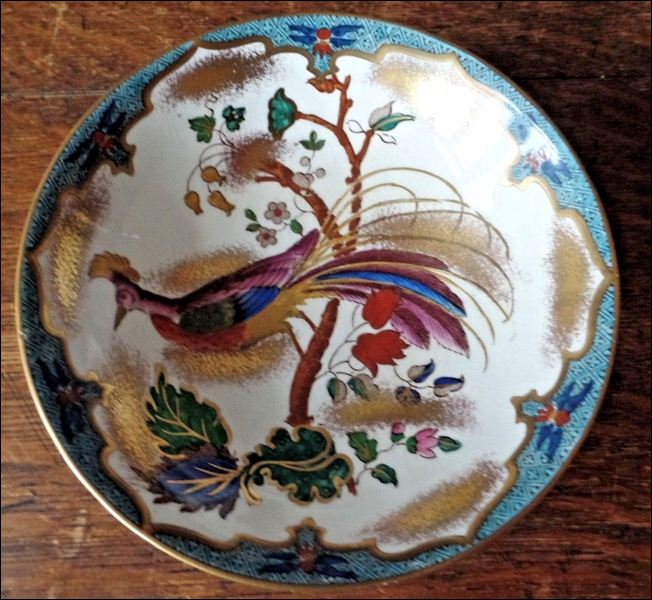 Booths plate with hand painted colour and gilt
---

Booths tea set in the 1930s Deco style
courtesy: John Miller
---

Booths 'Real Old Willow' plate

pattern number: 9072
used c.1906 to 1944


Booths
Silicon China
Made in England
Real Old Willow
---

Booths 'Real Old Willow' plate

pattern number: A8025
introduced 1944 and used by Booths
and also subsequent Booths companies into the 1980's

NOTE: Royal Doulton produced the Booths 'Real Old Willow' pattern under its own name from c.1981 to 1999
the name 'Real Old Willow' has also appeared on Royal Albert branded bone china ware
---

Gilt on black - plate in the Willow pattern
produced by Booths for Gilman Collamore, New York

Booths
Silicon China
England
Gilman Collamore & Co
5th Ave & 30th St. New York


BOOTHS
1.17

impressed mark and date of manufacture - Jan 1917
photos courtesy: Connie Schrader
---

Tureen in the 'Old Lady' pattern

Booths
"Silicon China"
Made in England
'Old Lady'
---
Marks used on ware for identification:
BOOTHS
BBB
Real Old Willow
---
Royal Semi Porcelain
- description used on high quality earthenware -

Silicon China
Silicon China was a name given to an improved, thin & lightweight earthenware body. It was used in the catering markets - hotels, sea liners and railways.

This trade name was used c.1906 onwards
---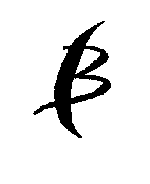 Blue printed or painted mark found on Booths reproductions of
18th-century blue and white Worcester porcelain
c. 1905-20


NOTE: Booths' reproductions are of opaque earthenwares,
whereas the originals were in transparent porcelain.
Godden Encyclopaedia of British Pottery
and Porcelain Marks
---

Booths
Royal Semi Porcelain
Staffordshire
England

Stone China
Booths
England

CHESWICK is the pattern name
marks without the trade name 'Silicon China'
1891 - 1906
---

Booths
Silcon China
Trade Mark

Booths
Silcon China
England

Booths
Silcon China
Made in England

Booths
Silcon China
Made in England
typical marks with the trade name 'Silicon China'
1906+
---

Booths
Silcon China


Booths
Silcon China
Made in England
1750

printed mark 1912+

Typical mark with or without "England" or "Made in England" underneath the mark.

Often with "1750" divided either side of the mark.

The date of 1750 is not that of Booths Ltd who started operation in 1891.
The earliest date of Thomas Booth & Co. was c.1868 at the Knowels Works in Burslem.
The 1750 either refers to a distant relation or to the date that a potworks that Booths used was first established.
---


in addition to the printed mark this example has the impressed name BOOTHS together with the numbers 7.27


7.27 is the date of manufacture - July 1927
---

Booths
Silcon China
Made in England

"B B B"
England
Printed marks
1930+

Sometimes with "Booths Limited England" or
"Made in Great Britain"

there were variations on these marks to 1948.
---

Booths
Silcon China
Made in Great Britain

Booths
7 38

GR VI
These marks were all on the same plate

The numbers 7.38 indicate the date of manufacture - July 1938

"GR VI" is for King George VI who became king of the United Kingdom
(Great Britain and Northern Ireland) in 1936.

---

Silcon China
Grand Depot
E Bourgeois
Importe D Angleterre


The Emile Bourgeois Grand Depot, 21 Rue Drouot, Paris was founded in 1863 and was the largest house in the world for table, dessert and crystal services.

Booth's was one of the English companies who supplied to the Grand Depot in Paris


BOOTHS
Silicon China
ENGLAND
"OR REPOUSSE"

The Booths pattern OR REPOUSSE was a guilded pattern meant to reflect the metalworking technique in which a malleable metal is ornamented or shaped by hammering from the reverse side to create a design in low relief

the hand painted number 7591 indicated the decorator who applied the guilding


BOOTHS
Silicon China
ENGLAND

printed mark with impressed BOOTHS

MING is the pattern name
---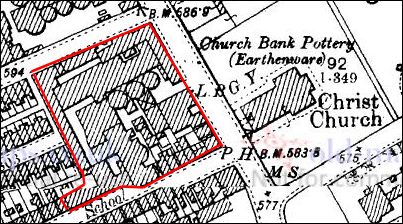 - click for more information on the Church Bank Works -
---
questions, comments, contributions? email: Steve Birks
---