| | |
| --- | --- |
| Bates, Walker & Co | |
Location and period of operation:
| | | | |
| --- | --- | --- | --- |
| Bates Walker & Co | Burslem | 1875 | 1878 |
Earthenware and porcelain manufacturer at the Dale Hall Works, Longport, Burslem, Stoke-on-Trent.

The Dale Hall works was originally founded in 1790.

One of the more successful occupiers was Mayer Bros (c.1843-55) and subsequent owners used "LATE MAYERS" in their marks.

The previous company, Bates, Elliot & Co (1870-75), introduced a 'kneeling, nude potter' with the date 1790 as a mark, subsequent owners used the same mark.

The partners in Bates, Walker & Co were William Bates and John Walker - the partnership was dissolved on the 12th August 1878
Formerly: Bates Elliot & Co [1870-75]
Subsequently: Bates, Gildea & Walker [1878-81]
---
London Gazette, December 3, 1875

Bates, Walker & Co were exhibitors in the British Section of the
International Exhibition of 1876, Philadelphia
---
London Gazette, September 3, 1878

notice of the dissolution of the partnership
between William Bates and John Walker
---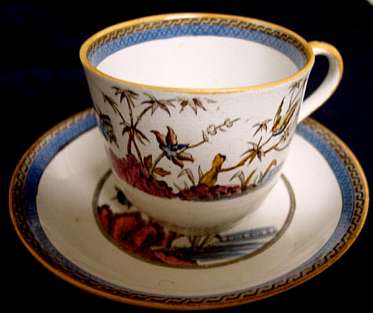 Cup and Saucer in the bamboo pattern
---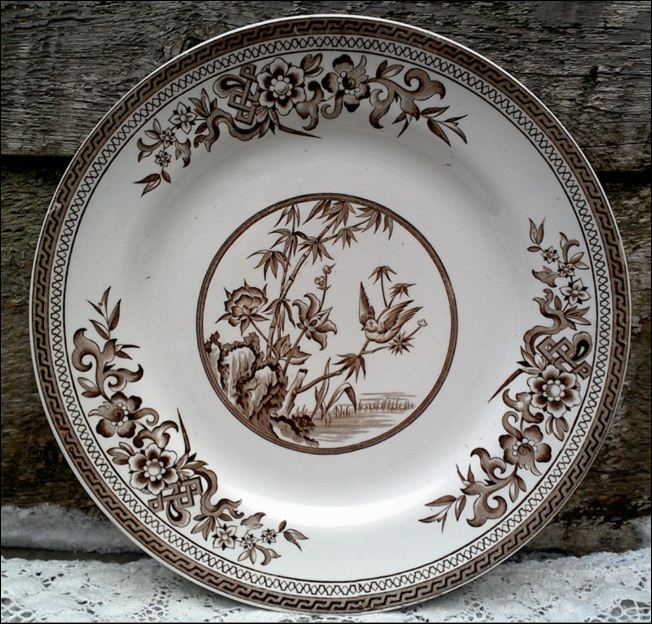 Plate in a brown transfer ware version of the bamboo pattern
---

Chamber pot in the Cyprus pattern
---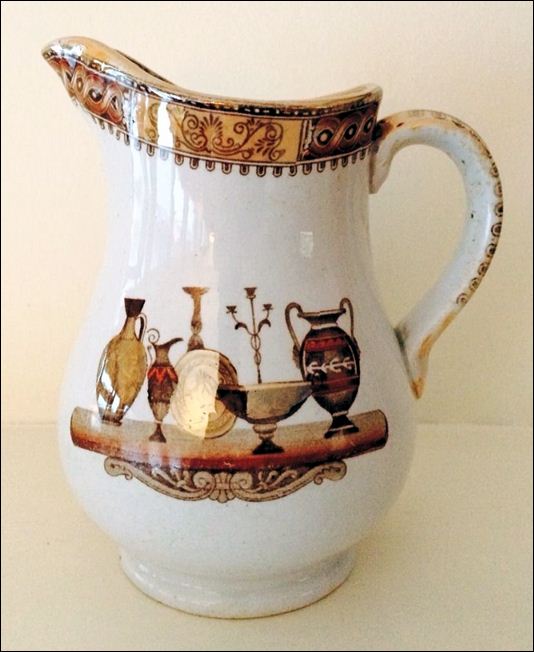 Cream jug in the Etruscan Vase pattern
---
Initials and marks used on ware for identification:
B W & Co
as an impressed
or printed mark
---
BATES WALKER
& CO
---

B W & Co
in a belt mark
CYPRUS is the pattern name
---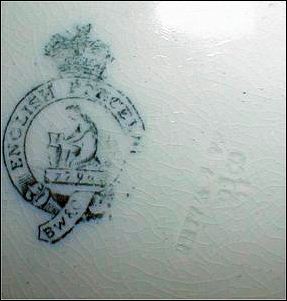 English Porcelain
B W & Co
in a belt mark with a crown on the top
and the kneeling potter inside
also with an impressed mark:
Bates & Walker
---

BAMBOO
B. W. & Co
LATE MAYERS
the registration diamond gives the
date when the bamboo pattern was
first registered: 8th February 1876
The previous company of Bates & Elliot introduced
this kneeling nude potter mark and it was used by
successive owners of the Dale Hall potworks.

on this mark
---
this mark includes both and impressed and printed B. W. & Co
the impressed 5/78 is a date mark - indicating
that the ware was produced in May 1878
the Poonah pattern was first registered
on the 5th September 1876
- click for more on the registration diamond -
the hand painted numbers & letters were used
to show the identifiaction of the painter -
unfortunatly there is no record of which person
this was.
---
1877, employee reference from Bates, Walker & Co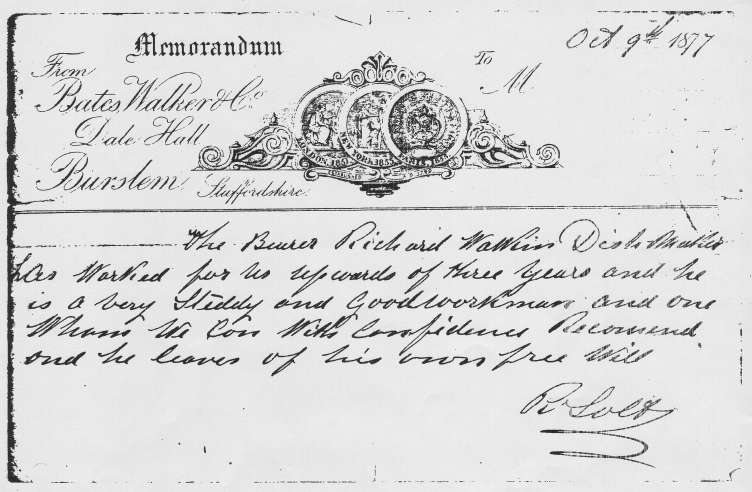 Oct 9th 1877
"The bearer Richard Watkin, Dishmaker has worked for us upwards of three years and he is a very steady and good workman and one whom we can with confidence recommend and he leaves of his own free will"

John Thomas Watkin b.1820 was a potter as were most of his children.
He lived at 28 Elliott Street, Newcastle-Under-Lyme, and his son Richard also worked for Bates Walker & Co of Burslem and for John Dimmock & Co of Hanley.
Richard Watkin emmigrated to America and took with him recommendations from these companies dated 1877 and 1879
---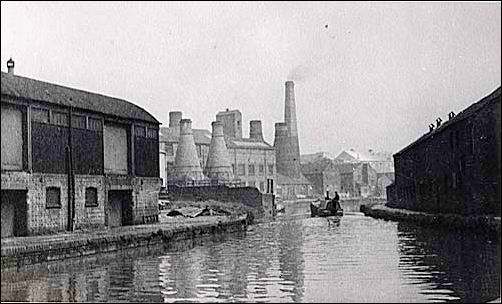 The Dale Hall Works 1910 - 1950 (c.)
- click the picture for more -
---
questions/comments/contributions? email: Steve Birks
---