| | |
| --- | --- |
| Joseph Stubbs | |
Location and period of operation:
| | | | |
| --- | --- | --- | --- |
| Joseph Stubbs | Burslem | 1790 | 1835 |
Earthenware and blue printed ware manufacturer at the Dale Hall Works, Longport, Burslem, Stoke-on-Trent.
"The extensive works at Dale Hall (or Dale Hole, as it used to be written), founded in 1790 originally belonged to Joseph Stubbs - a successful manufacturer of earthenware during the 1822-5 period, who having retired from business, died in 1836. He was succeeded in about 1843 by Messrs. Thomas, John & Joshua Mayer....."
Jewitt's "Ceramic Art of Great Britain 1800-1900",
"It is sometimes considers the work of Joseph Stubbs to be variable in colour, quality and execution. Stubbs began the factory at Dale Hole in 1790, retired in 1829, and died in 1836. Upon his retirement, the factory was purchased by Mayer, long an occupant of one of England's oldest potteries at Clive Bank in Stoke-on-Trent. ..... much of the dark blue printed ware produced at J. Stubb's Dale Hall, Longport, factory between 1822 and 1835 was sent to America. Between 1828 and 1830 the firm was styled "Stubbs & Kent"
The directory entries for Joseph Stubbs [1822-35] overlap with Stubbs and Kent [1828-30] , Kent probably came into partnership with Stubbs for a few years.
Concurrently: Joseph Stubbs [1828-30]
Subsequently: T, J & J Mayer [1843-55]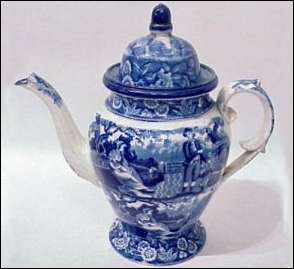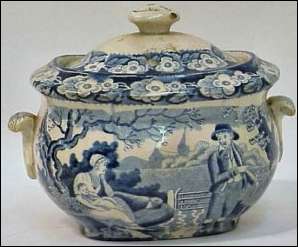 STAFFORDSHIRE BLUE TRANSFER ''WOODMAN'' TEAPOT AND SUGAR:
Ca. 1822-1833. Joseph Stubbs, Longport Staffordshire.
Tall teapot, 10inces high
Initials used on ware for identification:
STUBBS
JOSEPH STUBBS
LONGPORT
A circular impressed mark,
one inch in diameter,
with a star in the centre,
surrounded by words
"Joseph Stubbs Longport"
[this style mark was also used
by Stubbs & Kent]
---
questions/comments/contributions: email: Steve Birks
updated: 14 July 2005