| | |
| --- | --- |
| Elijah Cotton (Ltd) | |
Location and period of operation:
| | | | |
| --- | --- | --- | --- |
| Elijah Cotton (Ltd) | Hanley | 1880 | 1981 |
Earthenware manufacturer at Hanley, Stoke-on-Trent

Elijah Cotton started his business in 1880 at the Lichfield Street Works, Eastwood, Hanley.

He outgrew these works and in 1885 built the Nelson Pottery on the corner of Nelson Road and Commercial Road. This was a large works alongside the Caldon Canal, built on the site of a former pottery established in 1758.

The business continued to grow and acquired another works - an existing works on the corner of Broad Street and Victoria Road, Shelton.

Elijah Cotton died in 1895. It was later said of him that he was "a man of great individuality who, by his own efforts and the driving force of his strong personality, eventually became one of the leading manufacturers in the Potteries".

The business remained in the family and was run by Elijah's eldest son Edward and by 1956 was still actively run by one of Elijah's sons, Arthur assisted by his own son Nigel.
---

Lord Nelson Chintz Royal Brocade cup & saucer
---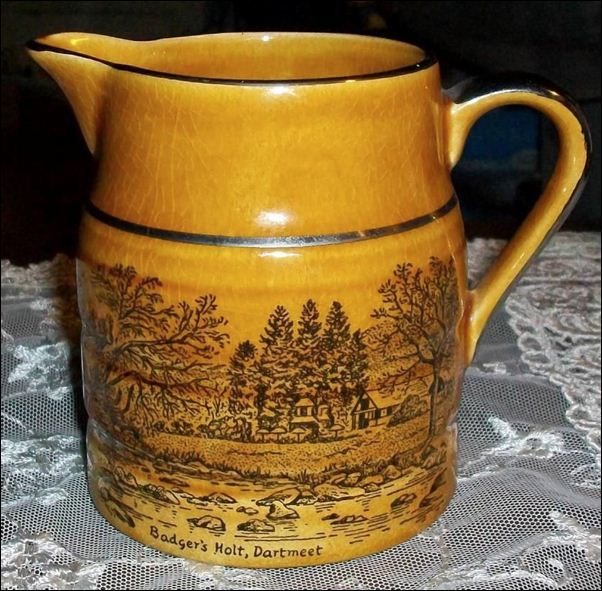 Souvenir jug
---

1950's yellow/black butter dish
Elijah Cotton Ltd
Staffordshire England
Lord Nelson Ware
---

Dinner set in SNOWFERN pattern
'Snowfern: A pattern to grace any table, looks expensive but is
most reasonably priced. A delightful white motif on a thames green
background. Available in tea and dinnerware etc.'
---


Stone and Earthenware
Elijah Cotton
Lichfield Street Works, Eastwood, Hanley
The Pottery Gazette, January 1880
---


Elijah Cotton
Lichfield Street Works, Eastwood, Hanley
Earthenware Jugs, Teapots, &c., of every description
Metal Mounter to the Trade
The Pottery Gazette, May 1880
---
London Gazette, April 6, 1894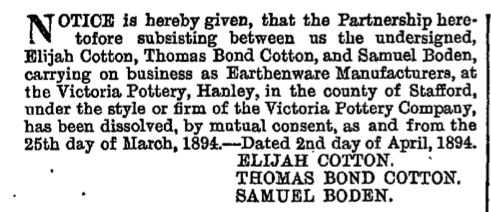 notice that the partnership between Elijah Cotton,
Thomas Bond Cotton and Samuel Boden at the
Victoria Pottery, Hanley was dissolved on the 25th March 1894
---
London Gazette, December 20, 1895
announcement of the death of Elijah Cotton
---

Marks used on ware for identification:
Lord Nelson Pottery
NELSON WARE
LORD NELSON WARE
ELIJAH COTTON
---
the date of manufacture was sometimes included
such as: 8-70
which gives the month/year the pieces was produced
i.e. August 1970.

marks such as: #82 may well be the shape number.
---

Nelson Ware

c.1913+


Elijah Cotton Ltd
Hanley Staff

c.1913+

---


BCM/NELSON WARE
Made in England

this BCM/Nelson Ware mark
appears in a 1947 directory

---

---

---


Elijah Cotton Ltd
Staffordshire England
Lord Nelson Ware

1956+

---


Lord Nelson Pottery
England

1956+

A crown was added to some
marks in 1956

[the item this mark appear on was made in January 1978]
1-78
---
---

Lord Nelson Ware
Elijah Cotton Ltd
Established 1758
Advert from Pottery Gazette - August 1956
although the advert says 'established 1758' Elijah Cotton actually started his
business in 1880. He opened the Nelson Pottery in 1885 on the site of a former
pottery works - it was these works that was established in 1758
---

Elijah Cotton Limited
Nelson Pottery, Hanley
Stoke-on-Trent, Staffordshire
1962 advert
---
Questions/comments/contributions? email: Steve Birks
---