Location and period of operation:
| | | | |
| --- | --- | --- | --- |
| Barker Bros (Ltd) | Longton | 1876 | 1981 |
China and Earthenware manufacturer in Longton, Stoke-on-Trent, England
From 1876 to 1880/82 at Gold Street, Longton.

From 1882 at the Meir Works, Barker Street, off High Street (now Uttoxeter Road), Longton.

They became a limited company in 1882.

In 1910 the business was bought by the brothers William and Arthur Hewitt. The name 'Barker Bros' continued to be used.

In 1939 Sampson Smith's was also purchased by the Hewitt brothers. Gerald Hewitt directed Sampson Smith's & Arnold Hewitt, Barker Bros.

From 1941 to 1945 production of both companies was at the Barker Bros factory.

1959 Barker Bros was taken over by Alfred Clough Ltd. and operated as a subsidiary.

In 1960 the management was listed as: Chairman & Joint Managing Director: Alfred Clough; Joint Managing Directors: A. E. Clough and A. R. Clough; General Manager: Arnold Hewitt; Works Manager: H. Salt; Works Directors: H. Baggley and T. Fox; London Director and Representative: J. G. Hewitt.

The name Barker Bros continued to be used until the business closed in 1981 following the disposal of some the assets of Grindley of Stoke (Ceramics) Ltd (who were a sucessor of Alfred Colclough Ltd)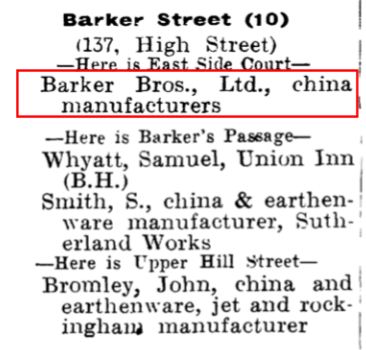 Barker Bros., Ltd., china manufacturers
from..... 1907 Staffordshire Sentinel
'Business Reference Guide to The Potteries, Newcastle & District'
---

Barker Bros., Ltd., china & earthenware manufacturers
Meir Works, Barker Street, Longton, Staffs
1913 letterhead
---

plate in the Gordon pattern

this pattern is in the Aesthetic style


Gordon
B. Bros

this unattributed mark could
belong to Barker Bros
c.1876-82
photos courtesy: Ben Jones
---
| | |
| --- | --- |
| flowblue sauce boat & dish | Barker Bros teapot |

willow pattern plate
Typical Barker Bros. blue and white transfer ware
---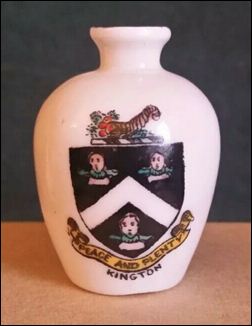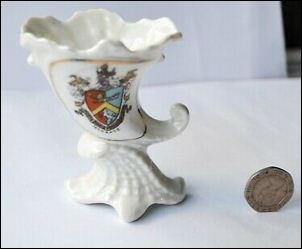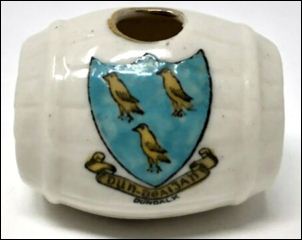 examples of crested china ware by Barker Bros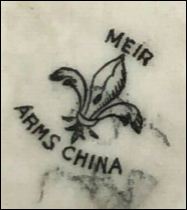 Meir
Arms China
Crested china collecting became a craze in Victorian and Edwardian times when day trippers bought small porcelain ornaments decorated with the coat of arms of the locality to take home as a souvenir.
Barker Bros. manufactured crested china under the name "Meir Arms China" - it is not known when they started production but manufacture had generally declined in the 1930s and was stopped in the time of the Second World War.
---

Barker Bros lusterware bowl

Barker Bros Ltd
England

this style of mark
c.1930-37
---

Tripoli Ware Plate
- probably introduced in the 1930s -



Barker Bros Ltd
Longton Staffs
Tripoli Ware
Hand Painted
England
---

Coffee set in the Madison pattern

- probably introduced in the 1950s -


MADISON
Bone White
Ironstone
Barker Bros
Staffordshire
England
---

Trio in the fiesta pattern

The fiesta pattern was introduced by Barker Bros in the 1960s
Influenced by Enid Seeney's 'Homemaker' pattern (1955),
the pattern illustrates the contemporary style in domestic tableware


fiesta
by Barker Bros
Royal Tudor Ware
Staffordshire
England
Bone White
Ironstone
Barker Bros produced many designs and patterns which had a specific name and back-stamp examples include: Tonga, fiesta, Madison, Tripoli
---
Trade names used by Baker Bros:
(Nearly all marks include the name Barker Bros.)
PRIMROSA WARE
TUDOR WARE
the Tudor Ware name was introduced c.1937

ROYAL TUDOR WARE
the name ROYAL TUDOR continued to be used by sucessor businesses
including Grindley of Stoke (1972-1982) and Federated Potteries (1982-87)
TRIPOLI WARE
BONE WHITE IRONSTONE
MEIR CHINA
MEIR WARE
MEIR ARMS CHINA
the name Meir Arms China was used on
crested souvenir ware
---

Trade Mark
Barker Bros
Longton

c.1880+


Barker Bros Ltd
Meir Works
Longton

c.1912-30
(but note this mark appears in
a 1960 trade directory)


England
BB
Meir
China

c.1912-30


Barker Bros Ltd
Longton
Made in
England

mark on a Willow pattern plate
probbly c.1921+


Meir China

c.1912-30


Barker Bros Ltd
Meir Works
Longton
Made in
England

this mark is c.1921 and onwards because of the addition of "MADE IN ENGLAND" as required by the McKinley Tariff Act of 1890 (amended 1921)


Meir
Ware
B B Ltd
Staffs

c.1930-37


Barker Bros Ltd
England

c.1930-37


Barker Bros Ltd
Tudor Ware
Longton
Staffs

the Tudor Ware name was introduced c.1937


Royal Tudor Ware
'Olde England'
Barker Bros Ltd
England

c.1937+



Royal Tudor Ware
Barker Bros Ltd
England

c.1937 +

(variations of this mark were in constant use - this mark appears in a 1960 trade directory)


Royal Tudor Ware
Barker Bros Ltd
England

c.1950 +

The registration numbers 863703-4-5 for the
Richmond Shape indicate that it was first
registerd in 1950


Royal Tudor Ware
Barker Bros Ltd
England

The letter "B" in these two marks indicates that the ware was made under the Wartime Concentration Scheme
---
Baker Bros factory & employees:

Arnold Hewitt

Alfred Clough

Harold Salt
(Clay Shop Manager)

see a contribution from Harold Salt's daughter
---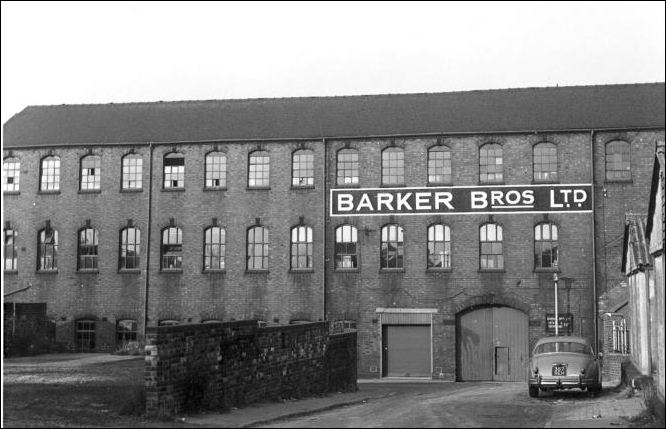 Barker Brothers Ltd, Meir Works, Longton.
photo taken 1960s
© Lovatt collection - Stoke-on-Trent Archives
---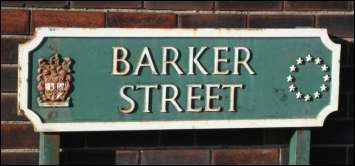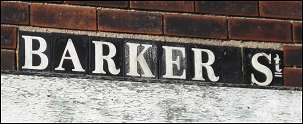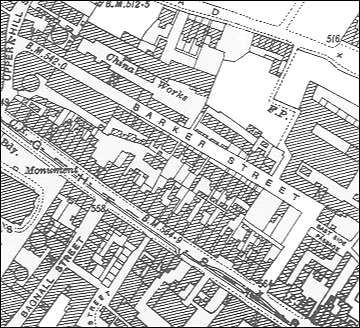 Barker Street Longton from an 1898 map
---
questions/comments/contributions? email: Steve Birks
---